NEBOSH Chief Operating Officer shortlisted for most influential individual in health and safety for 2021
Wednesday, 17 November 2021
The Safety and Health Practitioner has just announced the 2021 shortlist for the most influential individual in the health and safety profession, and we are delighted to share that NEBOSH's Chief Operating Officer, Dee Arp is on the list!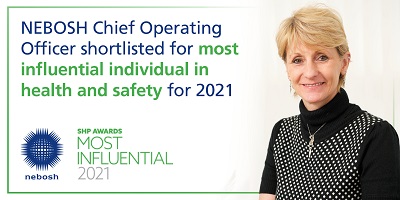 All the shortlisted candidates have been driving change or inspiring best practice in occupational health and safety in the UK during the last 12 months. In Dee's case the judging panel were impressed by the leadership shown to find ways for learning and assessment to continue despite COVID-19.
Click on the link below to see the full list of nominees, which also includes NEBOSH learners Rachel Butler, Crystal Danbury and Neil Fisher:
Most Influential Individual in health and safety, vote open now.
To cast a vote, complete and submit the online form by 5pm GMT on Friday 10 December 2021. The organisers will announce the finalists and overall winner shortly after voting closes.