NEBOSH CEO to attend International Process Safety Conference
Friday, 3 January 2020
NEBOSH will be attending the International Process Safety Conference which takes place in New Delhi from 11-12 February 2020.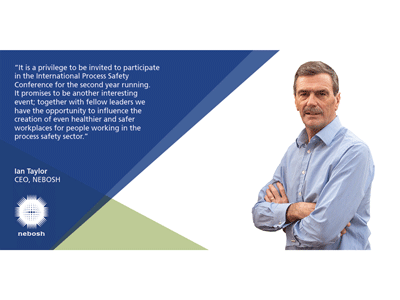 The theme for this year's event is "Next Generation Safety – Excellence through Culture & Transformation". NEBOSH Chief Executive, Ian Taylor, has been invited to participate in a Leadership Panel discussing the State of Safety –a National, Regional and Global Outlook. Taking place at 11am on the 11 February Ian will be joined by fellow experts from the sector.
Ian said: "It is a privilege to be invited to participate in the International Process Safety Conference for the second year running. It promises to be another interesting event; together with fellow leaders we have the opportunity to influence the creation of even healthier and safer workplaces for people working in the process safety sector."
The International Process Safety Conference will take place at Hotel Le Meridien, New Delhi. It brings together the collective experience and expertise of regulators, industry, academia and technology organisations to discuss, deliberate and share best practice. Over 250 delegates are expected to attend.
For more information about this event or to register your place please visit: http://inpsc.com/