NEBOSH awards first honourary International Diploma
Monday, 21 October 2019
NEBOSH has awarded its first ever honourary International Diploma. This prestigious qualification was presented to Dr Abdulrahman Jawahery, President of the Gulf Petrochemical Industries Co. (GPIC).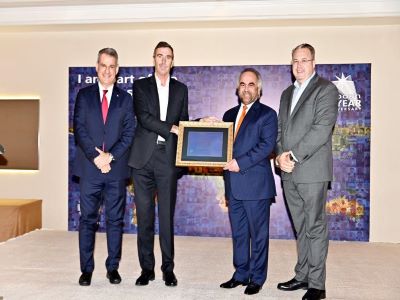 The presentation took place in the Kingdom of Bahrain at NEBOSH's recent 40th anniversary celebration in the company of leading local employers, including BAPCO, BANAGAS, and GPIC, NEBOSH Alumni, learners, societies, and ministries. Dr Jawahery humbly received the special diploma from NEBOSH Chief Executive Ian Taylor.
For many years Dr Jawahery has been a dedicated ambassador for the improvement of health and safety; his work as the President of GPIC has made the workplace safer for many thousands of workers. Dr Jawahery is also RoSPA Guardian Angel and GPIC was the winner of the NEBOSH-sponsored RoSPA Sir George Earle Trophy in 2005.
On being presented with the NEBOSH International Diploma Dr Jawahery said: "Words can hardly express the joy and gratitude I felt on receiving this prestigious acknowledgement. This recognition is a reflection of the excellent work exuded by my colleagues at GPIC and our unwavering culture in adapting and promoting the best safety and health practices; "Safety at Work, Safety at Home and Safety on the Road".
"I, along with everyone at GPIC will continue to work with NEBOSH and benefit from its advanced and continuously modernized programmes for many more years to come."
Ian Taylor added: "Dr Jawahery is a true leader with a heartfelt passion for a sustainable, safe, healthy and environmentally workplace. It is NEBOSH's honour that he has been an ambassador of ours for more than 15 years – he was instrumental in GPICs adoption of NEBOSH qualifications as they built a workplace that's safe for all."
"By awarding him an honourary Diploma we wish to publically recognise our appreciation and recognition for the work he has done – and continues to do – to promote positive health and safety."
For further information about NEBOSH's 40th anniversary visit: https://www.nebosh.org.uk/about-nebosh/nebosh-at-40/