"Phenomenal people doing phenomenal work": NEBOSH announces winners of first-ever Diploma scholarship
Tuesday, 22 June 2021
The winners of the inaugural Michael Adamson NEBOSH Diploma Scholarship have been announced as Chris Brown, Courtney Bayne, Imtiaz Ahmed Khan and Tran Duy Thanh Truc.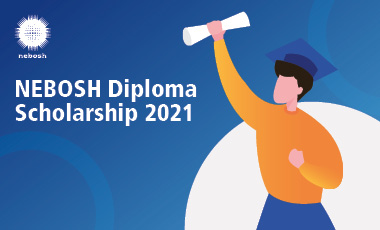 Named in memory of Michael Adamson who lost his life in a preventable workplace incident, the scholarship provides paid-for study for the NEBOSH National or International Diploma for Occupational Health and Safety Management Professionals.
The panel of judges was overwhelmed by the response to the scholarship; the depth and breadth of applications showed the incredible heart and purpose of people working in the profession. In recognition of the quality of applications, NEBOSH doubled the number of scholarships on offer to four.
Chris Brown is a Health and Safety Advisor for Children's Hospice South West in the UK. Through health and safety, he has found his passion; Chris believes the scholarship will give him the knowledge and confidence to develop as practitioner, to contribute to the profession and to have a positive impact on his workplace where the mission is to 'make the most of short and precious lives'.
Courtney Bayne, Assistant Health and Safety Advisor at Dundee City Council, is 20 years old but knew she wanted to make health and safety her career while she was still at school. Her enthusiasm, drive and commitment were clear in her application and hopes the Diploma will help her in her goal to inspire her organisation's health and safety culture.
Imtiaz Ahmed Khan is Manager-EHS for GPH Ispat Ltd, a steel manufacturer in Bangladesh. Imtiaz's application showed a desire not just to better himself but to better his country. Imtiaz wants to make health and safety a priority for Bangladesh; he has started a YouTube channel to share knowledge amongst health and safety professionals in the country but also wants to continue his own learning.
Tran Duy Thanh Truc works for Oxford University Clinical Research Unit Vietnam as Health and Safety Manager, responsible for health and safety programmes in Nepal, Indonesia and Vietnam. Tran feels most alive when ensuring staff are healthy and safe and feels the scholarship will help her achieve her goal of becoming a practitioner acknowledged worldwide for better occupational health and safety.
A delighted Imtiaz said: "I am honoured to be selected for this scholarship. I cannot express my feelings in words – this is the opportunity I always wanted."
Chris added: "I was shocked but flattered and thrilled to hear I have been selected amongst what I am sure were many worthy applications. It will be an honour to be a part of the Michael Adamson legacy and I am already looking forward to getting started with the studies."
The five-strong judging panel – NEBOSH Diploma holders Crystal Danbury and Lino Yohannan, NEBOSH's Dee Arp and Matt Powell-Howard, and Louise Adamson, Michael's sister and NEBOSH Ambassador – noted the difference every applicant was making to people, workplaces and countries around the world.
Dee said: "It was very special to hear from so many people who are passionate about the profession and dedicated to protecting the people in their care. These are phenomenal people doing phenomenal work and we are delighted to support our winner's professional development through this scholarship. On behalf of the judges, I'd like to say congratulations to our winners but also thank you to all of our applicants for their commitment to health and safety."
Congratulations to our winners!