NEBOSH announces five winners of 2023 NEBOSH L'Oréal International Bursary
Monday, 20 March 2023
The recipients of the first 'NEBOSH L'Oréal International Bursary: Enabling women in health and safety' have been revealed.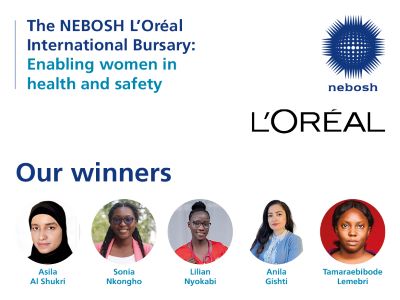 Global beauty brand L'Oréal partnered with health and safety organisation, NEBOSH, to offer a bursary which enables women to pursue a career in occupational health and safety, a profession where only 18-27% of professionals are women. The Bursary offers five women, based internationally, paid-for study and assessment fees for the NEBOSH International General Certificate in Occupational Health and Safety.
The NEBOSH L'Oréal International Bursary attracted nearly 200 applications from women around the world who want to develop their learning, careers and positively influence workplace health and safety.
The winners showed exceptional passion, ambition and a genuine commitment to health and safety. The five winners represent Oman, Nigeria, Cameroon, Albania and Kenya. They are:
• Asila Al Shukri
• Tamaraebibode Lemebri
• Sonia Nkongho
• Anila Gishti
• Lilian Munene
One of the winners, Anila Gishti said: "I am sincerely thankful to NEBOSH and the panel of judges for selecting me as one of the winners of the NEBOSH L'Oréal International Bursary. Thank you for your generosity, which made my wish come true."