NEBOSH and HSE join forces to develop new process industry qualifications
Friday, 27 May 2016
NEBOSH and the Health and Safety Executive have joined forces to develop two brand new specialist Occupational Safety and Health qualifications for the process industries.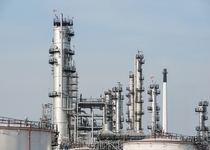 Working with the regulator brings NEBOSH unique insight into workplace health and safety. HSE employs more than 350 scientific, medical and technical specialists, who help make working environments and working lives safer in the UK and around the world.
The unique collaboration combines the advanced technical 'high hazard' expertise of HSE's laboratory with NEBOSH's ability to deliver strong vocational OSH qualifications. Both organisations are highly respected throughout the world.
The two qualifications will sit within NEBOSH's Certificate and Award level categories. They will be aimed at managers, supervisors and others working in high-hazard industries such as oil and gas, chemicals, plastics and pharmaceuticals. Topics covered by the NEBOSH HSE Certificate in Process Safety Management will include:
Process safety leadership
Management of process risk
Process safety hazard control
Fire protection and emergency response
NEBOSH Chief Executive, Teresa Budworth, commented: "We are incredibly proud to be working with HSE, which has a strong international reputation for high-quality research and thought-leadership in occupational safety and health."
HSE's Science and Commercial Director, Karen Russ, added: "It is a real pleasure to co-develop these new qualifications with NEBOSH. We hope that by combining our strengths, these qualifications will help to significantly improve understanding and further reduce health and safety risks in the process industries worldwide."
We will shortly be consulting on the NEBOSH HSE Award in Process Safety. The Award will be aimed at operators, team leaders, trades and supervisors working within the process industries.