NEBOSH achieves ISO 45001
Wednesday, 22 July 2020
NEBOSH is delighted to achieve ISO 45001 certification, the international health and safety management standard.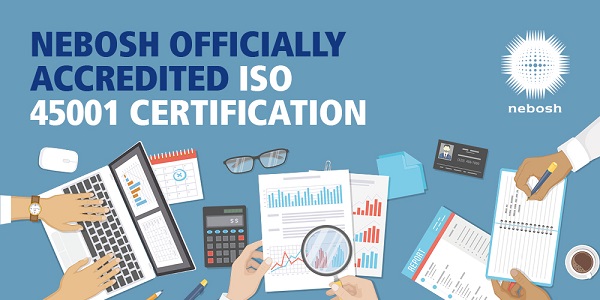 Following an audit earlier this year, the certification marks NEBOSH's commitment to health and safety and creating a great place of work for our employees. What's more, the auditors recognised NEBOSH as 'outstanding' in five key areas of our health and safety management system:
Communication with staff, and participation of employees from across the business
Strong leadership from top management
An excellent and thorough facilities management system
Our online employee health and safety training course
Identifying all interested parties (external and internal) who have needs within our health and safety management system.
Dee Arp, NEBOSH Director of Learning and Assessment and project sponsor, said "As a leading organisation in health and safety it was only right that we benchmarked ourselves against the best and achieved ISO 45001 certification. It is testament to our fantastic employees that we have created a workplace that's healthy and safe for people to come to work every day.
"The COVID-19 crisis presented us with some new challenges but our team has risen to the challenge! So, no matter whether people are working from home or the office we continue to make sure their health and safety is our priority.
In addition to ISO 45001, NEBOSH is also the proud holder of ISO 9001 (Quality Management) and ISO 14001 (Environmental Management) certification.