Learner blog: Tran Duy Thanh Truc
Monday, 2 May 2022
Tran Duy Thanh Truc works as Health and Safety Manager for Oxford University Clinical Research Unit Vietnam. She was one of the winners of the first Michael Adamson NEBOSH Diploma Scholarship in 2021. We caught up with Tran as she prepares for her first assessment…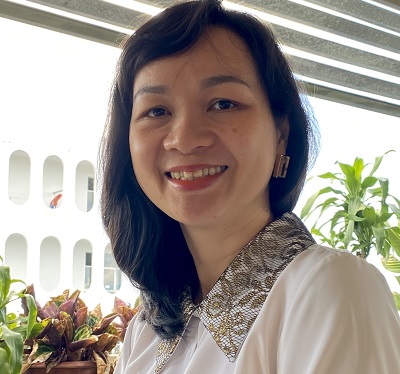 So Tran, you have been studying the NEBOSH Diploma for Occupational Health & Safety Management Professionals for about six months now. What have you learnt during your studies so far?
My Diploma journey is full of happiness, admiration and gratitude. I am happy to re-discover myself when learning through the NEBOSH materials, re-assess my knowledge, understanding and the level of application of them in my health and safety life. Many facets of knowledge, experiences and competences are opening up in this NEOBSH Diploma, allowing me to strengthen my competences, gain confidence at work and the trust of my organisation.
My studies have encouraged to use different ways of thinking as a health and safety practitioner. For example, how to approach problem solving and management issues.
Taking care of people is a theme throughout the studies and the Diploma is encouraging me to consider how this approach can be used to develop the health and safety function and the wider organisation.
What new knowledge or skills have you used in your workplace?
I've already been able to apply some of my new learnings at work:
I've edited the procedure for assessing and developing the competencies of health and safety practitioners at Oxford University Clinical Research Unit Vietnam, adapting NEBOSH materials and producing a new competencies framework. This has been approved by senior management and is being applied across the organisation, starting with Health & Safety Officers and Ambassadors.
Part of this work identified a need for training in risk management; all of our health and safety employees (including myself) then achieved the NEBOSH HSE Award in Managing Risks and Risk Assessment at Work to increase our competence in this area.
I have established a plan for health and safety performance monitoring and reviewing. This has given us a clearer picture of health and safety management, and better planning in activities, actions and budgeting. The next step will be to review our health and safety management programme by including this performance review approach.
I am reviewing and editing our change management procedure.
It sounds like you've already been able to implement some positive developments! What advice would you give to anyone thinking of applying for the NEBOSH Diploma Scholarship?
This is a great opportunity to improve your health and safety competencies. NEBOSH is offering us the chance to create better workplaces in the world, not only in the rich countries but for everyone. All workers in the world have the right accessing to better working conditions – the scholarship can help you to progress your education and help make safer workplaces.
---
Applications for the 2022 Scholarship are now open, find more information here; Michael Adamson NEBOSH Diploma Scholarship 2022.