NEBOSH took me to the other side of the world!
Thursday, 6 December 2018
Like many people, I got into health and safety by accident. I was working for TRL – the Transport Research Laboratory, based in Crowthorne in Wokingham – as an engineer and researcher in civil engineering.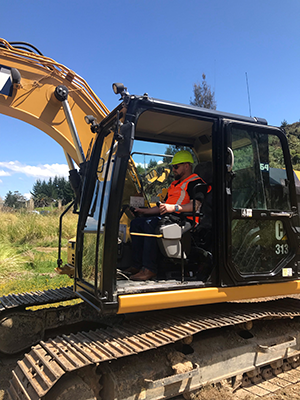 I'd been there for six years when one day, out of the blue, they asked me whether I would like to take on the role of Health, Safety and Environment Manager. My initial response was no! But, with a little cajoling, I eventually agreed and I started the job in May 2010.
I was really flung in at the deep end. Suddenly I had this quite responsible job and, like lots of us, I was carrying a bit of imposter syndrome – worrying that people would discover I couldn't actually meet the challenge. I needed to learn the subject quite quickly, and TRL's retiring Head of Health and Safety recommended that I did a NEBOSH qualification. The first qualification I undertook was the NEBOSH National General Certificate in Occupational Health and Safety, which is most people's pathway into health and safety study. I really enjoyed it, and so I quickly followed it up with the NEBOSH National Certificate in Fire Safety and Risk Management. Then quite soon after that, I decided to enrol onto the NEBOSH National Diploma in Occupational Health and Safety programme.
I realised quite quickly that it's a challenge to do a full-time job at the same time as studying part-time, and the Diploma is hard work. But I think it's the best way to do it because it allows you to get the academic grounding you need in the subject while getting practical experience at the same time. As my role at TRL encompassed environmental management as well as health and safety, I decided to study for the NEBOSH National Diploma in Environmental Management as well, so I really went the whole nine yards! In 2010, I had a job in civil engineering; by the end of 2013, I had NEBOSH Diplomas in health and safety and environmental management and had spent three years learning on the job.
I really enjoyed my role at TRL and I think I would probably still be there, but my wife has family in New Zealand and in September 2014 we decided to move here. Around that time, thanks to gaining my NEBOSH qualifications, I applied to be a Chartered Practitioner with the Institution of Occupational Safety and Health (IOSH) and I was accepted. That's something I couldn't have done without NEBOSH. Having my NEBOSH Diplomas alongside Chartered (CMIOSH) status undoubtedly helped me when I started looking for positions in New Zealand: my NEBOSH qualifications gave me credibility, as they are internationally recognised.
My first job in New Zealand was working for Auckland Transport – which performs a similar role to that of Transport for London (TfL) in London – where I was responsible for construction safety. In February 2015 I moved to the New Zealand Transport Agency, whose functions are similar to those of Highways England and the DVLA; here I became head of health and safety. Then, after a short contract with a major construction company, I was shoulder-tapped for a job looking across the whole of the construction industry in New Zealand, at a new charitable trust called Construction Health and Safety New Zealand (CHASNZ), which I helped to found.
CHASNZ aims to raise health and safety standards across the industry. It's the peak body representing health and safety in construction in New Zealand, covering all aspects from roads to commercial to residential.
Health and safety is on an evolutionary journey in New Zealand. You only have to compare the date of the UK's Health and Safety at Work Act – 1974 – with New Zealand's equivalent legislation: 2015. We are catching up quickly though. When I moved to New Zealand, I definitely got the sense that recruiters were looking for the kind of internationally recognised qualifications I have from NEBOSH, in order to bring health and safety expertise in. New Zealand is an innovative place, though, and it's changing fast: we're focusing on growing our own expertise, so we can rely less on importing it.
In health and safety, there's no black and white; there are no hard-and-fast rules. It's a tough job. I was lucky that at TRL I had a diverse and varied role that gave me practical experience across a range of risks and issues, and allowed me to grow my own style too. To be an effective health and safety professional you need that balance of vocational experience and a sound academic grounding. That's the beauty of NEBOSH: it gives you the ability to learn through your work while you're studying. For me, it's the only way to do it.
Jon Harper Slade,
GM Skills and Competency,
Construction Health and Safety NZ Trust (CHASNZ)