It's a once in a lifetime opportunity that you'll definitely not regret - Scholarship Winner Interview
Tuesday, 16 May 2023
We met with Courtney Bayne to discuss the Michael Adamson NEBOSH Diploma Scholarship, and how she has progressed in her studies after winning in 2021.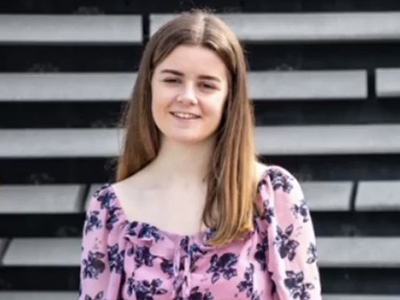 Naomi: I'm Naomi Gill, Content Engagement LEAD here at NEBOSH and I'm here today with Courtney Bayne, one of our winners of the inaugural NEBOSH Diploma Scholarship in 2021. It's a scholarship designed to help learners develop the knowledge and practical skills they need to succeed in the workplace, advance their careers and keep people safe from harm.
The scholarship is named in memory of Michael Adamson, who lost his life in a preventable work accident in 2015 and it is judged by a panel that includes his sister Louise, alongside representatives from NEBOSH and existing Diploma holders.
Winners of the scholarship are awarded paid for online study fees and the assessment fees for the NEBOSH diploma in Occupational Health and Safety Management to help them achieve their academic and career dreams.
Courtney, thank you so much for agreeing to share your experience of applying for and winner the NEBOSH Scholarship with us.
And congratulations from NEBOSH on achieving that first Diploma unit. It's a great time to look back and talk about your experience of applying for and winner the scholarship and to catch up about how your study has been going.
Naomi: To start with, can I take you back to 2021 and ask you how you heard about the NEBOSH Diploma Scholarship? Can you tell me about how and why you decided to apply for it?
Courtney: I received an email from nebosh telling me that I was eligible to apply for the Diploma Scholarship because I had already achieved my NEBOSH General Certificate as part of my health and safety apprenticeship, at the time, through my work.
Naomi: Can you tell me about how and why you decided to apply for it?
Courtney: Yes, as I was already a Health and Safety Modern Apprentice at my work, I obviously had a passion for Health and Safety. I knew that the NEBOSH Diploma was something I definitely wanted to do within my career, but I knew that I would, more than likely, have to find my own funding for it. I saw this as a great opportunity – too good an opportunity to pass by – so that's why I decided to apply for it.
Naomi: Where we you when you found out you were a winner?
Courtney: So, I was actually on a week's fire risk assessment course in Edinburgh at the time, and I knew that if I was going to win it that that would be the day. Also, I was religiously checking my phone all the time! So yes, that's where I was.
Naomi: So how did it feel when you found out? Was it an email you got?
Courtney: Yes, I got an email. I was over the moon! You know, I didn't think I would win it because I knew there was going to be hundreds of people applying for it and I didn't think I would be chosen. So I was completely over the moon! I couldn't believe it!
Naomi: Would you share how you've found studying at Diploma level?
Courtney: Yes. So, because I'm only twenty-one now, twenty at the time, I think, I was relatively new out of school and so I had that as an advantage. Whereas, if I had been a bit older I might have struggled a bit more. I had done my NEBOSH General Certificate relatively recently, I had that behind me and I knew about NEBOSH exam technique before moving onto the more intensive exams of the diploma. Also, because my NEBOSH General Certificate was open book I had a rough idea of the format.
I think it's safe to say that it is difficult and it's come with a lot of hard work, dedication and commitment – which I knew. But I think the benefits of my learning completely out weigh that for me.
Naomi: You've now achieved the first unit of the Diploma qualification, on workplace health and safety principles. What interested you the most about that?
Courtney: I think there were a few different aspects. A lot of that unit is about the law and about how legislation works in the UK and it was quite good to be able to tie that all together with work in practice, through relevant case laws to see how it comes to life. Also, about how different aspects of our health and safety management system interlink because they are obviously the most important thing to get our system on paper in practice. Also, there's no point in implementing controls if people don't know about them through communication or they don't know how they work so they don't use them anyway. Also, if they are not involved in the development of them they're not likely to use them anyway. So it's kind of, getting that, which is all on paper, in theory – into practice. I find that really interesting.
Naomi: How are your studies making an impact in your workplace?
Courtney: Yeah so it's given me confidence in my own health and safety practice in the advice that I'm giving to people. It's enabled me to take on greater responsibility within my workplace – taking on larger and more complicated tasks and assist colleagues. It's been really beneficial so far and I'm looking forward to progressing it.
Naomi: How do you balance studying for the NEBOSH Diploma with your professional role and other aspects of your life?
Courtney: I am fortunate enough that my employer is really keen on further learning and so they actually give me one study day a week to work towards my diploma without distraction from other colleagues or working life. Over and above that I do set aside a couple of nights a week out of my time to dedicate to my studies as well. So that has worked really well for me.
Naomi: Could you share some advice for someone about to start studying the NEBOSH Diploma?
Courtney: Yes, so I think that obviously it's really important to familiarise yourself with the course materials, but what I do is create my own notes that will help me to retain that information in my own way. I think it's also good to use the NEBOSH guidance and reference materials for further studying because there's obviously a lot more than what you're given.
Also, it quite good that you're in control of your own exam date so you can set it as far in advance or as near as you like. What I would suggest is not to set it next month of you're not ready but don't set it too far away that you think there's no point in doing anything to prepare or that you'll have forgotten everything. You might think there's not any point me studying at the moment, I've got six months or a year – that's not really realistic, is it?
I changed my exam date and I personally think it helped me. I think won the scholarship in the June and had set my exam for March but it wasn't suitable for me and then I put it back to the November and did the first unit – bearing in mind the first unit is the largest of them all and there's four different parts to the exam - in a year and a half studying which fine for me it's a huge unit.
I think as well – as something that's just sprung to mind – although its online learning you're not alone – utilise the support of the tutors and there are groups set up. I have a wee group set up with someone from England, someone from Ireland and then me from Scotland so it's a good range of locations and I'm also speaking to people who are studying and going through the same thing so it definitely made me feel like I'm not alone. And, yeah, definitely utilise the tutors. I think I did all of the questions on the practice paper and I sent every single one of my answers to the tutor for feedback, to know where I was going wrong and where I could have picked up more marks and I think that really helped me.
So that's some of my tips!
Naomi: The NEBOSH Diploma Scholarship is named in memory of Michael Adamson, who lost his life in a preventable work accident in 2015. Michael's story provided motivation for the scholarship and his sister Louise, who is dedicated to sharing Michael's story and campaigning for better occupational health and safety, is a NEBOSH ambassador and scholarship judge. Would you be able to tell us how Michael's story motivated you?
Courtney: I think the key word that you just said is "preventable" and it's very important that we're educating people to make sure that controls that were missed aren't missed in future and prevent incidents like that tragic incident happening again because it's horrible. It motivated me. I want to be part of the drive in health and safety to ensure that controls that were missed aren't missed again in the future and that everyone who comes to work goes home safely at the end of each working day. So it definitely motivated me to study Health and Safety to ensure that I can be part of that change to prevent another fatal accident like this.
Naomi: Could you talk about how your own background provides motivation for you in your Health and Safety career?
Courtney: Yes, unfortunately - this was before I was born but I found out about it later – my Gran, she worked in a petrol station for all of her years basically and she was involved in a gas explosion and went through the window. She was seriously injured and she was never able to work again. She was never able to provide financially for her family. So obviously it hits hard so I want to be part of the drive to change in health and safety culture to ensure that incidences like my Gran's don't aren't replicated anywhere else.
Naomi: To finish, can you share some words of advice for someone wanting to apply for the NEBOSH Diploma Scholarship in 2023?
Courtney: NEBOSH is the gold standard in Health and Safety and if you're serious about a career in Health and Safety there's really no better qualification you can get – so just go for it! It's a once in a lifetime opportunity that you'll definitely not regret. Just go for it!
---
Applications are now open for the 2023 Scholarship. Find out more and submit your application online: Michael Adamson NEBOSH Diploma Scholarship 2023.