How do you get the public to stay safe and out of quarries?
Friday, 5 June 2020
Every year, the UK public are warned of the unique dangers of swimming in disused quarries. But in 2013, after a summer which saw six fatalities in just two months, the Mineral Products Association (MPA), which has run the annual "Stay Safe" campaign on behalf of the quarrying industry, decided it was time for an urgent shift in strategy.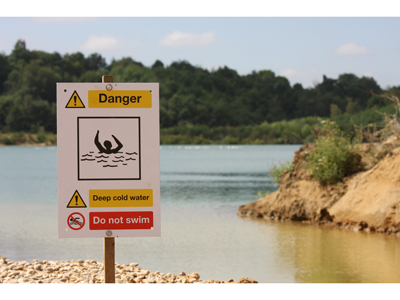 "The vast majority of deaths in quarries take place in inactive or disused sites, which are often in the control of third parties, and are water-related." explains Paul Pounsford, of the Stay Safe initiative. "But drowning is a leading cause of accidental death in a broader context: more people drown each year in the UK than are killed in fires, for example, and we know that 40% of people who drown did not intend to be in the water at all. So, we decided that rather than concentrating on drowning in quarries, we needed to shift our focus to drowning prevention as a national challenge and work with a range of stakeholders."
In November 2013, in the aftermath of that summer's tragic deaths, the MPA convened a summit of more than 40 interested organisations – including sports and environmental organisations, landowners, emergency services, local government, safety organisations and quarry operators – so they could share information and discuss the way forward in managing public safety in quarries.
In opening the summit Nigel Jackson, the Chief Executive of the MPA said "We know we need help to get our strategy right. We want to understand what you're doing; we want to learn from you."
Whilst MPA members were already going into schools and organising other community engagement activities, the MPA realised that by working with other organisations with expertise in this area it would get the message across more effectively.
"Today because of this refocusing, what we are doing is very much about education and collaboration with other agencies. Rather than concentrating on the don'ts, we focus on giving people an understanding of the risks."
Unique dangers
Although not all quarries are water filled, those that are present unique dangers particularly when they cease to be controlled by the industry and are used in a variety of ways.
"What you have is man-made, water-filled voids that can be extremely deep." Paul explains. "They are often shelved, which means the depth changes suddenly, creating a hidden danger. They are easy to enter, but exiting can be quite difficult because of steep, unstable sides. Above all though, the water is dangerous because it is extremely cold – and people really don't understand this."
Anyone entering water suddenly is at risk of 'cold-water shock', a physiological reaction to cold that causes the individual to involuntarily inhale water which can reach the lungs.
"It's very difficult to keep calm and not panic when that happens," says Paul. "In addition, even the strongest swimmers, who think they can get across a quarry lake easily, fail to consider the impact of cold water on their abilities. The cold water in a quarry makes it very different to a swimming pool."
As well as the depth and cold, there may be hidden obstructions, such as boulders, old machinery or pumps operating beneath the water's surface which present additional dangers. Quarries are also often remote places with patchy mobile phone coverage, so summoning help in an emergency may not be easy, particularly when they have ceased to be operational.
Most injuries and deaths in quarries occur among young people aged 14 to 24, and victims are disproportionately male. Adult fatalities are often would-be rescuers.
"The people who get into difficulties weren't out to do harm" Paul points out. "They may have climbed over a fence or found a gap created by someone else to access the quarry. These sites are often very beautiful and people – especially young people – go there just to have a bit of fun, not realising the dangers."
Most fatalities occur on disused legacy sites, in other words they are no longer owned or managed by the industry but by other landowners. While landowners are responsible for public safety on their sites, the MPA and its members nonetheless feel they have a collective responsibility to raise public awareness of the dangers that can exist on these legacy sites. Many former quarries have been restored to create nature reserves or public amenities with lakes, which look very appealing, but are not safe for swimming.
Taking on teenagers
A key element of MPA's refocused strategy post 2013, was that MPA aligned "Stay Safe" with the work of other organisations such as The Fire and Rescue Services, RNLI, RLSS and RoSPA. This was why in 2016, the MPA committed to supporting the UK National Drowning Prevention Strategy on its launch.
The key targets of the strategy include:
offering every child water-safety education and the opportunity to learn to swim
encouraging the creation of community-level water risk assessments and safety plans
increasing public awareness of every-day water risks.
A key challenge for the MPA in meeting its goal to educate is that the age group it most needs to engage is among the most difficult to reach.
"We have good access to primary schools," says Paul, "but secondary school aged pupils are more resistant - they don't want to be told what not to do."
This is where working with other organisations has proved hugely beneficial. The focus on drowning prevention, rather than more narrowly on quarries, has enabled the MPA to get the message out in a more engaging way, working with safety organisations and emergency services, which have personnel trained to speak in schools and colleges and longstanding experience in education.
"The RNLI has superb material," Paul notes. "There has been a slight change of emphasis recently as part of its 'Respect the Water' campaign. The RNLI now give 'Float to Live' advice to follow if you do get into difficulty in the water. The whole drowning prevention approach is very much about education and understanding the risks. The RLSS's 'Drowning Prevention Week' runs every June and provides an opportunity for us to reinforce our safety messages."
There is evidence that repetition does change behaviour but there is a need to keep it fresh. The MPA is using social media, including Facebook and YouTube (see links below) to reach its target audience.
Raising awareness among the public is a large part of the MPA's refocused Stay Safe campaign, but the campaign is also about educating its own members on the risks. Each year, the MPA reminds quarry owners and operators what they should be doing to keep the public safe on their sites. This advice includes assessing risks, taking measures to mitigate risks, such as fencing; nominating a responsible person to check signage, fencing, and so on; engaging with the local fire and rescue service; and considering adopting other measures, such as using security guards at problem sites on bank holiday weekends in the summer.
Co-operation and communication
If there is one message to share it is that Drowning Prevention is about effective collaboration. Everyone has a role to play including schools, parents, government, local authorities, emergency services, water authorities, industries such as the water utilities and quarry operators, environmental and nature conservation charities, other landowners and specialist safety organisations.
Getting the drowning-prevention message out into the media at critical times, such as school holidays and bank holidays, is important. Organisations should coordinate their messaging to maximise coverage and avoid overlapping.
Above all, says Paul, any successful safety campaign needs to raise awareness and educate, so effective communication is key.
"We have to be consistent and clear," he stresses, "and that's why it's so important to work with other organisations: so that we all use the same language and stick to the same key messages."
Resources
UK Drowning Prevention Strategy
https://www.nationalwatersafety.org.uk/media/1005/uk-drowning-prevention-strategy.pdf
Mineral Products Association Resources
https://mineralproducts.org/youth_playsafe01.htm
https://www.funkidslive.com/podcast/charlie-crows-quarry-safety/#
https://www.facebook.com/StaySafeStayOutOfQuarries/?ref=bookmarks
RNLI's National Drowning Prevention Campaign - "Respect the Water"
https://www.respectthewater.com/
RoSPA's Managing Safety at Inland Waters guidance:
www.rospa.com/Leisure-Safety/Water/inland
Royal Life Saving Society UK (See water safety tab)