Young Person's Award winner finds valuable career path
Case Study: Ryan Barry - University Hospital of North Tees
While nine out of ten university students find themselves in work or further study within six months of graduation, a significant proportion of these now end up in low-skilled jobs that are unrelated to the degree course they have taken.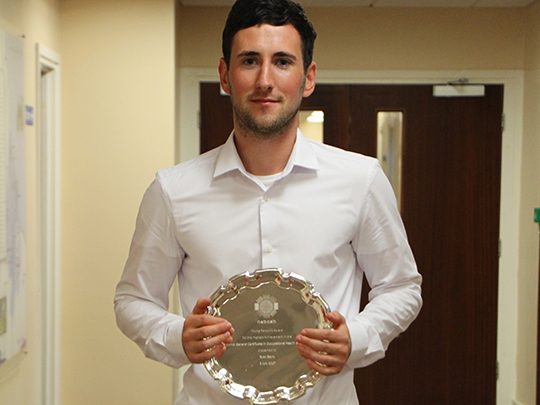 Ryan Barry, 25, who comes from the north east of England, found himself in exactly this position after achieving a first class honours degree in Criminology four years ago. Like many young people from this part of the UK, he struggled to find a job in his field of study and eventually ended up working as a dock operative at the Port of Teesport.
Although Ryan felt it was a "good place to work" he couldn't help but feel his academic potential was not being fulfilled, using the analytical skills gained from his degree. He also felt that he should be contributing more in some way, in an area that would be of more value. It was then that he began to notice health and safety.
"I would see the directors down at the docks taking a big interest in health and safety. You would hear things like it was always the first thing to be discussed at board level, and my ears would prick up and think this all sounds really important."
Motivated by the idea that he could do something to protect people at work from illness and injury, he spoke about it to his colleagues who gave him one simple piece of advice. "They told me if I wanted to get into health and safety I'd have to 'do my NEBOSH' and so that's what I did."
Ryan self-funded a course to take the NEBOSH National General Certificate in Occupational Health and Safety in June 2016. He not only passed, but also achieved a distinction, which really impressed those who interviewed him for a role as Health and Safety Coordinator at University Hospital of North Tees. "I was delighted when they offered me the job," Ryan told us. "Within just a matter of weeks of passing my Certificate I'd found a full time health and safety position, which is exactly what I was looking for."
Ryan was further delighted when he discovered he had been awarded a NEBOSH Young Person's Award – an award given to the best candidate of the year aged 25 years or under who had taken the NEBOSH General Certificate. "I really am quite proud to have achieved this award and it has been very well received here at work." He is now looking forward to attending the NEBOSH 2017 Graduation Ceremony with his family to celebrate his success.
More importantly, Ryan is also now looking forward to a positive future in a long-term career he feels strongly motivated by and which he believes is of incredible value. His enthusiasm meant he has already now taken the NEBOSH National Certificate in Fire Safety and Risk Management, which he also passed with distinction. He now has his sights set firmly on a NEBOSH Diploma.
"I've found I am really passionate about health and safety and I really enjoy the fact there is so much to learn and so much variety and scope in the whole subject. It is also good to feel academically challenged again. The NEBOSH General Certificate has given me a fantastic grounding for a career I find challenging, exciting and rewarding."
Congratulations and well done Ryan!
How has your NEBOSH qualification helped you? Email us with your story: marketing@nebosh.org.uk