You can't climb a ladder with your hands in your pockets!
Case Study: Nasir Aryani
In the space of just six years, Nasir Aryani has developed an impressive career in health and safety.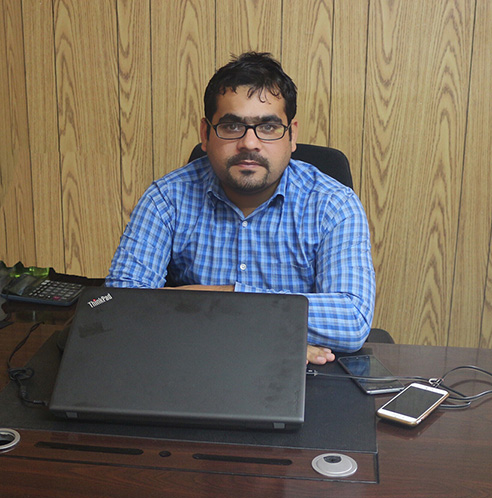 Nasir is a Project Health, Safety and Environmental Manager on one of Saudi Arabia's biggest current infrastructure programmes - the development of the 176km metro system, which will service the country's capital of Riyadh from 2019. Around 75,000 employees are working on the project, with Nasir taking on health, safety and environmental management responsibility for the construction of four new deep underground stations.
He has teams of supervisors and officers working for him at different locations, who call on Nasir for advice and to deal with any serious issues that arise. His main role is to work with other managers on the project to ensure health, safety and the environment is a priority for all. Saudi Arabia has recently strengthened its legislation around safety and environmental issues. Compliance is important, as well as ensuring work is not interrupted by any serious incidents.
Nasir, who only began considering a career in health and safety in 2011, told us he is often asked how he has managed to rise so quickly to a position of responsibility on such a vital and high profile project.
"I always say a person cannot climb a ladder if he keeps his hands in his pockets. Pursuing my NEBOSH qualifications from the very beginning has been so important. On a project like this, employing professionals who are NEBOSH qualified is considered vital, because compliance and efficiency are seen as a return on investment."
Nasir is originally from Pakistan. In 2011 he completed a Master of Business Administration degree at Abdul Wali Khan University, but he struggled to find employment. His goal was to find work in the Middle East. "I applied for more than 100 jobs but was unsuccessful as I didn't have the experience to go with my qualification," he told us. "As I searched for jobs in the Middle East I began to notice there was a strong need for health and safety people and the majority of employers wanted someone with a NEBOSH qualification.
"I didn't know anything about NEBOSH at the time, so I did some research and decided to take the International General Certificate in Occupational Health and Safety. I passed and quickly found work. I could see that there were really good opportunities for career progression if I continued my NEBOSH studies. I went on to take the International Diploma in Occupational Health and Safety as well as the NEBOSH Diploma in Environmental Management, both of which were essential for me finding my current role."
Nasir added: "NEBOSH is by no means a shortcut to success. It involves a lot of hard work and dedication. However, that's why I believe it is so strongly desired by employers and has such an excellent international reputation. In this profession, working hard pays off and if you get a good set of qualifications through a proper channel, you can get to the highest level."
Projects like the Riyadh Metro do not last forever, so Nasir is continuing to extend his credentials. Nasir used his NEBOSH qualifications and relevant experience to achieve Chartered Membership of the Institution of Occupational Safety & Health (Chartered Safety & Health Practitioner). He has also taken the United States Board of Certified Safety Professionals, CSP Exam and become a Certified Safety Professional. "I had a 5 year goal to find a management role, which I have achieved. My aim now is to simply open up even more opportunities for my future."