When you get to your destination 13 years early
Case Study: Emily Peat - NCC Events
Setting your own little personal targets can be really helpful. They give you something to aim for and in many ways they tell you how well you're doing, depending of course on how close you are to achieving them.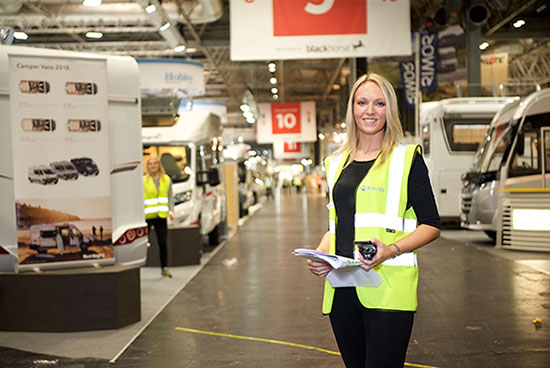 A few years ago, when Emily Peat was just starting out in her career in events management, she decided to set herself the target of being in a director role by the time she was in her mid forties. Now, at just 32 years of age Emily has already got there and she says, in many ways, she has NEBOSH to thank for that.
Emily is Director of Operations at NCC Events, a subsidiary company of the National Caravan Council. In her role she is responsible for delivering two of the biggest UK consumer events of the year - 'The Motorhome and Caravan Show' every October and 'The Caravan, Camping and Motorhome Show' each February.
Both shows take place at Birmingham's NEC and attract around 100,000 visitors each. They are hugely important events for the industry, with many of those attending the shows choosing to upgrade their leisure vehicles or buy extensive camping and touring equipment and accessories. Emily has a great deal of experience of the NEC, having worked there as an Events Manager for eight years up until the beginning of 2015. In her former role she used to support organisers of major events using the venue. Now the tables have turned and she is the client.
Health and safety is hugely important at the NEC. With its 186,000 square metres of indoor space and 20 interconnecting halls, it is one of the UK's biggest and most well-known venues. It has a strong reputation to maintain, as well as a huge responsibility in keeping large numbers of people safe. As a result, all NEC Event Managers are required to hold a NEBOSH National General Certificate in Occupational Health and Safety and a NEBOSH National Certificate in Fire Safety and Risk Management. The NEC is in fact accredited by NEBOSH to deliver certain NEBOSH courses, such is their need.
Since leaving the NEC, Emily has found both her NEBOSH qualifications incredibly useful in advancing her career. Whilst her knowledge and understanding of events and the NEC have been crucial in Emily gaining her 'Director of Operations' position, the additional strings to her bow of health, safety and fire risk management have effectively sealed the deal for her. High level roles require high level thinking, and with safety being such an important part of delivering well managed and professional events, NEBOSH has helped Emily stand out from the crowd.
"Since I've been made Director of Operations, I now also look after health and safety for the entire NCC Group," Emily told us. "Previously we would outsource much of that, but now it's part of my wider role. Another element is supporting the Director General. On occasions he will come to me for guidance in relation to industry safety matters. Thanks to NEBOSH I've always been able to draw on my knowledge, or at least know where to turn to for the right information."
Supporting exhibitors at the annual shows and ensuring their safety procedures are up to scratch is another important element of her role. "Being able to demonstrate my capability around the various health and safety aspects, as well as my knowledge of event management and the venue is definitely what elevated me to where I am now.
"I feel like I've already achieved what I hoped for at the age of 45. Having seen the benefits NEBOSH has brought me in my career I'm now looking to put our Operations Coordinator through the General Certificate as part of his personal development. I'd say that at least 50% of event management is about health and safety. It's now a fundamental part of making career progress in our industry."