When health and safety is more of an obsession than a career!
Case Study: Shahzad Khawaja
NEBOSH speaks to double NEBOSH Diploma Holder Shahzad Khawaja, Head of Health, Safety and Environment for Tank-it which is part of Al-Ghurair Energy in the United Arab Emirates.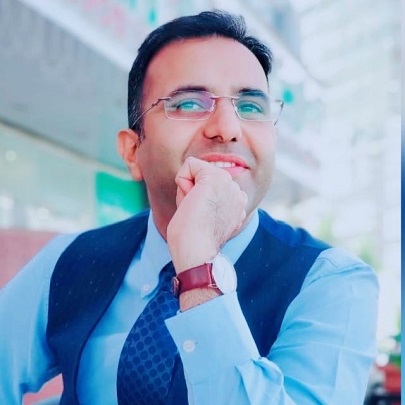 What made you choose to make Health and Safety your career?
Health and Safety is more of an obsession than a career for me and is something I feel I was destined for. I was always the most prudent amongst my social circle, weighing up the pros and cons of everything before leaping in. I suppose you could say I was the perfect match for this profession because I was risk assessing before I knew it was a thing!
Before discovering Health and Safety could be a career, my focus had been on healthcare management. In time, I came to the realisation that to keep people healthy, it was necessary to consider more than just their health. I was therefore keen to find ways to add safety knowledge to my health expertise.
The first NEBOSH qualification you took was the International General Certificate. Why did you choose this qualification and how did you find it?
By the time I signed up for the International General Certificate, I had already taken on some Health and Safety responsibilities in my workplace, after acquiring a few local qualifications.
There were many reasons for wanting to take the NEBOSH International General Certificate. I felt it would give me the solid understanding of Health and Safety principles that I lacked, and its international focus also appealed. This qualification had an excellent reputation, was internationally recognised and would help me achieve membership of Health and Safety professional bodies. For me, taking this qualification just made sense.
Shortly after passing this qualification you moved from Pakistan to the UAE. Did your International General Certificate help you make this move?
I have no doubt that my successful relocation to the UAE was made possible because of my NEBOSH studies. When I moved, I had just achieved my NEBOSH International General Certificate and had begun to study the NEBOSH Environmental Diploma.
Why did you choose to take the NEBOSH Environmental Diploma next?
Many jobs in this profession encompass Health and Safety and Environmental Management. Many practitioners take Health and Safety qualifications but do not take Environmental ones. I didn't want to do this and felt that to be a true HSE professional I needed to achieve qualifications in both disciplines. I wanted to fully understand environmental principles as well as health and safety principles and this is what the Environmental Diploma gave me.
Your next step was to take the NEBOSH International Diploma. What was the motivation for taking this qualification and how has it helped your career?
I wanted to be at the top of my game and believed that achieving both NEBOSH Diplomas was key to this. For me, the International Diploma was the most challenging qualification I have taken. It is also the qualification that I learnt the most from and was instrumental in developing my skills. My NEBOSH Diplomas helped me to secure places on the MSc and MBA in Occupational Health and Safety that I went on to complete after my Diploma.
You have held safety positions in large corporates, higher education establishments and consultancies. What has been the common thread and where have they differed?
In my view everywhere I have worked is unique and I have treated each that way. My motivation for moving between industries and companies has been to keep learning and challenging myself. I have intentionally sought opportunities to gain experience, directly or indirectly, in almost all major industries. I have worked in Healthcare, Oil and Gas, Construction, Education, Consultancy, Manufacturing, and Finance. All these industries have their own challenges, and I have relished the opportunity to apply what I learnt through my NEBOSH qualifications to overcome them. For me, that is one of the best things about NEBOSH qualifications. They give you an approach that can be applied in any workplace or industry, which really helped me build up my confidence in my abilities and competence.
In January 2020 you were appointed Head of Environment, Health and Safety for TANK IT in Dubai. Can you tell us a little about the company and your role?
TANK IT is a subsidiary of Al-Ghurair Group, which is the second largest private group in UAE. The company supplies Gasoil and Gasoline to corporate clients in the Oil and Gas (downstream) industry.
As the Head of HSE, I look after all aspects of HSE including the development and implementation of policies and procedures and ensuring compliance. I also develop and deliver safety training and am working to improve our HSE culture. I also mediate with our suppliers and corporate clients to ensure everything is done right from a HSE perspective.
My NEBOSH qualifications helped me secure this exciting and rewarding role.
What do you enjoy most about being part of the health and safety profession?
As I said before, I have always assessed risks and if I see anyone acting in an unsafe way I have always intervened. So, I suppose I have made a profession out of something that comes naturally to me. This career allows me to make a difference by keeping people safe and this is massively rewarding to me.
I believe this career was always my destiny and I am fortunate to have found it. I could not have anything better as my career than HSE.
What would your advice be to others considering a career in Health and Safety?
To be successful in this profession, you need to be inquisitive, tenacious so you keep going until you find the route cause and must also be prepared to influence and challenge others. If you have these qualities and are prepared to work hard you can make a success of this career.