What's it like taking the NEBOSH Diploma aged just 19?
Case Study: Megan Burley - DSM Nutritional Products
At just 19 years of age, Megan Burley is one of the youngest ever NEBOSH Diploma candidates. We recently spoke to Megan to find out more about her motivation for taking this professional level qualification…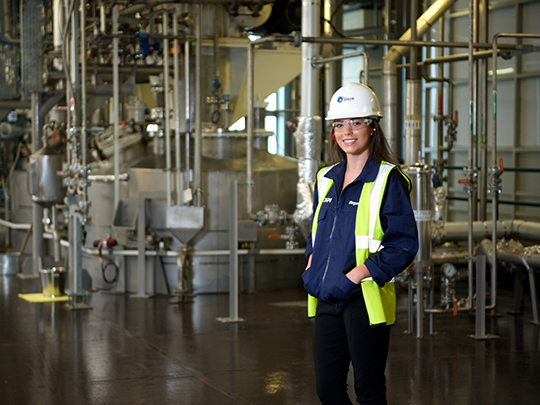 When Megan left school in 2015, she had a choice to make; should she go to university or find a job instead? Whilst talking through these options with her parents, Megan's father asked her if she had considered an apprenticeship. Megan did some research and decided an apprenticeship would give her the best of both worlds. It would mean she could start working and earning whilst receiving relevant vocational training that would significantly improve her long-term prospects at the same time.
Megan applied to join DSM Nutritional Products' apprenticeship programme and was offered a role within the Safety, Health, Environment and Sustainability (SHES) team. DSM is one of the world's largest vitamins suppliers and Megan is based at one of its major plants in Dalry, Ayrshire.
David Mills, who is a SHE Specialist at DSM, took Megan under his wing. David began working at the Dalry plant 25 years ago: "The company has an excellent attitude to growing talent and a lot of managers in this company started out as apprentices themselves."
One of the first things David suggested was that Megan sign up for a relevant qualification to support her development. After speaking with her new colleagues, Megan discovered that almost all of the SHES team at DSM had gone down the NEBOSH route. Megan therefore opted to take the NEBOSH National General Certificate in Occupational Health and Safety.
"As someone with no relevant experience, it was exactly what I needed," said Megan. "It gave me all the underpinning knowledge I required to make the most of the opportunity I'd been given here. And because the rest of the team were all NEBOSH qualified, I found I could quickly get involved in all the discussions and tasks, and get more hands-on with the work."
Having passed her Certificate, Megan started looking at taking the NEBOSH National Diploma in Occupational Health and Safety. She realised that achieving the Diploma would put her on a par with those in her age group who had gone on to university. However she'd also gain invaluable vocational experience too.
What really tipped the balance for Megan was when she read an article in NEBOSH's newsletter. It highlighted that the Diploma was the most sought after health and safety qualification among employers. "More than half of companies looking for health and safety managers asked for the Diploma and this is increasing every year apparently," said Megan. "I began to realise that accepting the apprenticeship at DSM and choosing the NEBOSH route were the best decisions I could have made."
Megan is finding classroom learning useful as she progresses with her Diploma studies: "I'm the youngest in the class and a lot of those attending with me are at management level already. I get to hear their experiences, their views and learn more about different businesses. All the time I am building my knowledge." Megan's hardwork and dedication to her studies is paying off. She has passed Unit A and is now studying for Unit B.
Megan's apprenticeship will last for four years and both the NEBOSH Certificate and Diploma will form an important part of her development plan. David has high expectations for her future: "A NEBOSH Diploma provides an excellent foundation for a health and safety career." he said. "I've seen a lot of apprentices in my 25 years here and I would say Megan's attitude and level of commitment is one of the best I have ever seen."
How has your NEBOSH qualification helped you? Email us with your story: marketing@nebosh.org.uk.