Diversity, respect and an international lifestyle
Case Study: Wasyl Terych-Health and Safety Consultancy in Dubai
You can't help but feel a little envious of Wasyl Terych. It's approaching winter, but he's about to enjoy a relaxing dip in his outdoor swimming pool.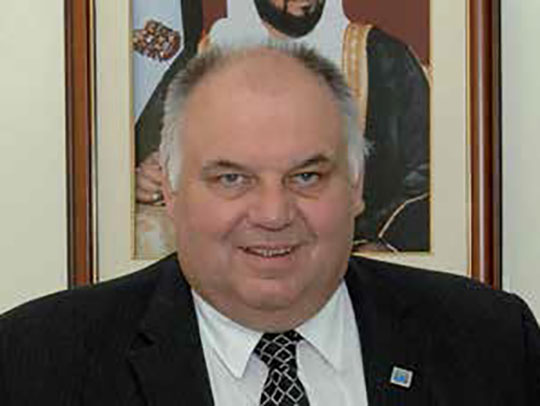 Wasyl works in Dubai, in the United Arab Emirates (UAE). It's usually around 30 degrees during the early evening in autumn, so the pool is a great way of cooling down at the and of the day.
He's the Senior Manager in a health and safety consultancy in Dubai. He likes it there. He fits in well with the multicultural lifestyle. His work sees him travelling throughout the Middle East, to India, the Philippines and to Singapore. This international way of life suits him. Although Wasyl was raised in the UK, his father was Ukrainian and his Grandmother was Austrian. His mother was English, but her family background was Spanish. His wife is from the Philippines. What can you say.
As a child he felt excluded. His was one of only a handful of Ukrainian families in Stoke-on-Trent where he was raised, but he says "many of life's lessons were learnt." As an engineer, and later working in the food industry, Wasyl was an active trade unionist. He was a union safety rep and went on to become a national committee representative. Career-wise he progressed into management and then into health and safety consultancy. He's seen things from all sides.
Wasyl talks a lot about respect. Respect for diversity, respect for the ordinary worker, respect for management, respect for all people in fact. He also believes it's important to win people's respect. For this reason he thinks qualifications are vital.
Wasyl has a NEBOSH Certificate, a Diploma and a Construction Certificate. He also has a degree in Health and Safety Law and Environmental Law, plus specialist qualifications in food safety, construction planning supervision and auditing.
Asked why he chose NEBOSH, he says: "Because they're the most respected qualifications in the field of occupational safety and health."
He adds that this respect for NEBOSH now extends way beyond the UK. Wasyl teaches the NEBOSH International Diploma to students from many different countries. He says the letters IDipNEBOSH are respected by employers throughout the world.
How has your NEBOSH qualification helped you? Email us with your story: marketing@nebosh.org.uk.