Turning dreams into reality!
Case Study: Glesni Haf Jones
In our latest interview we spoke to Glesni Haf Jones who has just secured her first health and safety role in the construction industry. We learn what attracted her to the profession and how she has made her dream a reality!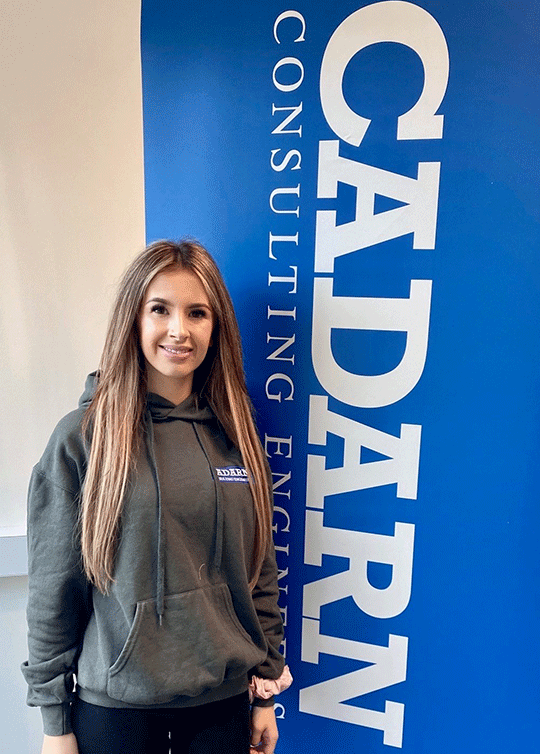 You studied business management in tourism at university and got to do an internship in Antigua! How was this?
It was fantastic as Antigua is like paradise and I didn't want to leave! I undertook cross training at Sandals Grande Antigua Resort and Spa. I thoroughly enjoyed it, particularly the butler aspect. The whole experience enabled me to understand how a hotel is run and I gained many skills during my time there. Everyone was so lovely, and I felt totally at home there. I made some friends for life who I have kept in touch with. I am hoping to go back there on vacation once everything returns to normal following COVID-19.
In 2019, while working in customer services, you decided you wanted to change the direction of your career. What prompted this decision?
Whilst I was studying for my degree, I had also worked in customer services. When I graduated in 2016, my plan was to look for a new role with better long-term prospects, but everything changed when I fell pregnant. I gave birth to my son in 2017 and lots of challenges followed, including the breakdown of my relationship. Once I had fully adjusted to parenting, I knew I wanted to find a career that I would enjoy, which would allow me to provide a brighter future for my son. It was tough to leave my customer service role as my colleagues had supported me through some of my most difficult times. My job there was also secure, but as there was no opportunity for progression, I had to push myself to create the future I wanted for my son.
What career did you set your sights on and why?
I set my sights on health and safety in either construction, engineering or nuclear. The work appealed because it was varied, offered real career opportunities, and I knew it would be rewarding because of the positive impact you can have.
These industries have traditionally been very male dominated, and there have been some efforts to encourage more women to pursue careers within them. I thought why not try something different! I have been amazed by the support I have received since I shared my aspiration to make construction health and safety my career.
What plan did you come up with to make this dream a reality?
I started by speaking to different people within the industry to find out about the role and to understand what I needed to do to be considered. NEBOSH kept coming up in conversation and I could see that lots of employers specified it in adverts for health and safety positions. This made it a no brainer for me. I chose to start with the NEBOSH General Certificate to gain a good foundation without being sector specific. I found a Learning Partner that was about a 40-minute drive from me and just went for it.
How did you find the course?
I did find it difficult because everything was new to me. I was the only one on the course that had no previous health and safety knowledge and everyone else was being sponsored by their employer because of its relevance to their role. I self-funded the course, so failure was never an option for me.
I knew passing would help me achieve my goals, so I kept focussed and studied hard. When it was time to complete the assessment, I felt ready because I had prepared well and was used to taking exams because of my degree. When my results arrived, I was delighted to learn I had passed with credit.
How did it help you?
It helped me massively as it covered pretty much every aspect of health and safety. I was surprised by how much I enjoyed the law in particular. My NEBOSH course books are like my bible and I still refer to them if I am unsure about anything.
How did you go about securing your first opportunity?
I started my NEBOSH at the end of 2019. The plan was to gain my certificate and then apply for work. Unfortunately, my results coincided with the start of COVID-19 so this set me back, but I was still determined to follow my dream.
I sat my CITB SMSTS course in March 2021 and my course leader encouraged me to make a LinkedIn account to connect with like-minded people. I posted about my hopes to break into the industry and wasn't prepared for it to blow up as it did! Within a few hours I had so many connections and encouraging messages which gave me confidence.
I saw an advert for an admin position at Cadarn Consulting Engineers and I decided to apply to try to break into the industry. I am so glad I did because I was offered an interview which went well. Half an hour later I was invited back to meet the managing director Ifan Rowlands, who offered me a trainee health and safety position! I was speechless as I couldn't believe what was happening. I obviously accepted his generous offer and am so happy to be given this amazing opportunity.
Congratulations on securing your first role! Are you pleased you worked so hard to make your dream a reality?
Thank you. It feels like my hard work has paid off and its great to be given the chance to gain experience and put what I have learnt into practice. I started my trainee health and safety role with Cadarn in May 2021. Whilst I was serving my notice period, I undertook work experience with Cadarn which was fantastic. I got to visit sites with the engineers who are all so highly skilled and knowledgeable. They are so passionate about their work and I know I am going to learn a lot here!
What are your long-term career aspirations?
I want to continuously develop within my trainee role and just be the best version of myself that I can be. I think there are still too many deaths and injuries occurring in the construction industry and I want to join the health and safety professional working to change this. We all have a role in ensuring that the workplace is a safe place to be, not only for ourselves but for others too.
What's next for you in terms of your personal development?
I am booked on to a NEBOSH Construction Certificate course and I am so excited for this! Once I have completed this I plan to sign up for the NEBOSH Diploma. I like learning new things and in health and safety things are constantly evolving. To be successful you need to keep up to date with everything so you should never stop learning. I think it's vital to invest in qualifications relevant to your career.
What advice would you give to others who want to change career?
Whatever career you set your sights on, believe in yourself and stick to it! You will have people who doubt you, but don't let them put you off striving to make your dream a reality. When I was faced with negativity, I found it motivated me more because I wanted to prove to them and myself that I could do it!
Remember anything worth having doesn't come easy. I had wobbles myself and considered dropping out of my NEBOSH course. I persevered because I knew success would really help me achieve my goals. Believe in yourself as you'll be thankful you didn't give up when that career opportunity pops up. Stay focussed on your end goal and if you are determined and willing to give your dream your everything an employer will snap you up in no time.
Its early days but I know this is the career for me. There is great opportunity for progression and no two days are the same. I am so pleased I believed in myself and followed my dreams!