Tragedy leads to a 'great passion' for safety
Case Study: Roque D'Cunha - Qatar Steel
When someone loses their life at work it can have a profound impact on their colleagues, particularly those who witness the incident. For Roque D'Cunha, the death of a young man at a manufacturing plant in India led to a long period of sleepless nights as he wrestled not only with what he had seen, but what might have been done to prevent the fatality.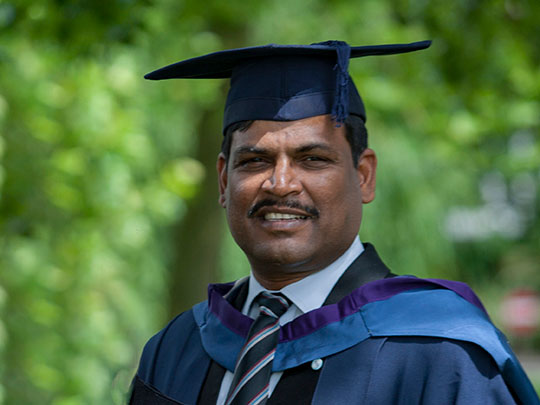 "He was very young and inexperienced and had only just started work. Unfortunately he got caught up in some machinery. We tried our best to rescue him, but there was nothing we could do," explained Roque, who at the time was a service engineer in Mumbai, India, where he had grown up.
From this moment Roque never stopped thinking about safety at work. After leaving his homeland to work in the steel industry, first in Saudi Arabia then in Kuwait and Qatar, he began to research health and safety processes. By 2006 his employers Qatar Steel recognised Roque's passion for safety issues and, although his main tasks were around maintenance and inventory management, he began to get more involved in health and safety matters.
"My reading and online research helped a lot, but I really wanted to improve my skills and knowledge further so I took the NEBOSH International General Certificate in Occupational Health and Safety. This led to increasing responsibilities for health and safety audits and further fuelled my passion. I therefore decided to take the NEBOSH International Diploma in Occupational Health and Safety and this is when my career really began to change."
With his new skills, Roque was transferred to the Health, Safety and Environment (HSE) department at Qatar Steel, to support the development of better safety systems. To further his knowledge, Roque chose to take the NEBOSH Diploma in Environmental Management and passed. His impressive qualifications and GradIOSH status were rewarded. Roque was promoted to the position of HSE Management System Supervisor at a plant with more than 2,000 employees producing around 1 million tonnes of steel every year.
"NEBOSH has made a big difference to my life. It has supported me in developing my passion for safety, which I am certain has saved lives and protected many people from ill-health and injury at work. It has also put me in a position where I feel secure financially and, more importantly, gives me tremendous confidence in the quality of the professional advice I provide."
His success and the standards he has set have also influenced those around him. Roque's team of eight HSE inspectors all hold the NEBOSH International General Certificate in Occupational Health and Safety. In fact the NEBOSH qualification is now compulsory for the role. He and the team also recently took the new NEBOSH HSE Certificate in Process Safety Management. "It's an excellent specialist qualification. We plan for more of our general supervisors to take this qualification as we believe it is a strong way to further develop our safety culture."
He added: "Health and safety is a great profession. I love it. It not only makes you better, it makes you stronger. While the tragedy I witnessed earlier in my life affected me terribly in the beginning, it ultimately gave me this great passion. I have tried my best to turn it into something positive by doing everything I can to protect my fellow workers."
How has your NEBOSH qualification helped you? Email us with your story: marketing@nebosh.org.uk
International General Certificate in Occupational Health and Safety
NEBOSH HSE Certificate in Process Safety Management
International Diploma in Occupational Health and Safety
International Diploma in Environmental Management