Too much time is spent at work to do something we don't like or believe in. Having a passion for health and safety is vital!
Case Study: Ajay Thakur - HORIBA India
We spoke to Ajay Thakur, Corporate EHS Head for HORIBA India, about what makes health and safety the perfect career for him. Ajay shares his four top tips for anyone with similar aspirations.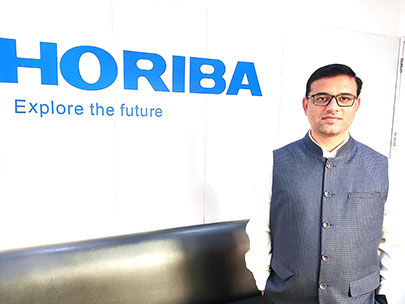 At university, you completed a Diploma in Engineering. Can you tell us how your move into health and safety came about?
When I left university, I initially worked as a Mechanical Engineer in the automotive industry. After three years, I was ready for a new challenge and secured another engineering role in steel manufacturing. When I started with my new company, I discovered it had a dedicated health and safety department, which was led by an inspiring safety manager. Seeing the positive impact he made led to my realisation that health and safety was what I wanted to do. I suppose you could say I found my calling! I started to assist the safety manager whenever I could and that marked the start of my journey in this noble profession, which allows me to protect others from harm in the workplace.
How easy was it to make the switch from Engineering to Health and Safety?
I was very fortunate to have the opportunity to assist an established safety manager and learn from his good practice. As my confidence and experience grew, my role changed and I began devoting more of my time to health and safety tasks and less to engineering.
The technical skills I gained from my earlier career gave me a really solid and relevant base to practice health and safety. I have the understanding I need to discuss prospective engineering controls and how they might enhance safety with stakeholders from other functions.
You clearly have a real passion for learning. How do you fit in all of your studies, given your busy work schedule?
Since I decided this was my vocation, my overarching ambition has been to become expert in anything that helps me be a good health and safety professional. This is why I completed my previous qualifications in Fire Prevention, Environmental Law and Industrial Safety. However, when I think about what health and safety professionals need to know, it goes beyond this specialist knowledge. I recognise that to ensure health and safety is prioritised, I also need to be able to effectively manage stakeholders and have influence. This was one of the motivators for choosing to complete my MBA.
Given my busy workload, I dedicate one day of my weekend to learning and self-development. Learning is something I really enjoy so this works well for me.

You recently completed your NEBOSH International General Certificate. Why did you choose this qualification and how does it complement the qualifications you have achieved previously?
Taking the NEBOSH International General Certificate was driven by my desire to gain a globally recognised health and safety qualification. The qualifications I had previously completed meant I had reached the standards necessary to be a competent safety professional in India. I wanted to upgrade this and achieve a certificate that is known globally for providing the knowledge and skills required to effectively manage health and safety in the workplace.
Now that I have achieved the International General Certificate I intend to continue my NEBOSH studies, and plan to start my NEBOSH International Diploma in 2023.
How did you find the course and what benefits have you gained from completing it?
The content covered in the NEBOSH International General Certificate is very comprehensive and includes legal requirements, risk assessment and controls, and accident investigation. Completing the course ensures you have a thorough understanding of a wide range of health and safety risks and know how to manage them effectively. Employers realise this is what the qualification gives you and this is why so many specify it as a requirement when recruiting for health and safety roles. For me, achieving this qualification supports your career growth.
In September 2022 you joined HORIBA. Can you tell us a little bit about the company and your role there?
I joined HORIBA India as Corporate EHS Head earlier this year. The company offers a wide range of products and services in the fields of environmental monitoring, automotive testing, medical diagnostics, and semiconductor manufacturing. HORIBA India has a network of sales and service offices across India, as well as state-of-the-art manufacturing facilities in Pune, Nagpur Haridwar and Bangalore. HORIBA India is committed to providing the highest level of customer satisfaction and technical support and its team of highly skilled and experienced engineers and scientists are available to provide guidance and assistance on all aspects of instrument selection, installation, and operation.
As Corporate EHS Head I am responsible for leading all EHS activities across HORIBA India's manufacturing plants, offices, and project sites. I have a great team who work with me to achieve this. It is a role that comes with lots of responsibility but I am really enjoying it so far. It has given me the opportunity to learn new systems and design parameters, which will help me move further in the safety profession.

You have held health and safety positions since 2010. What do you enjoy most about your HSE career?
There are so many things I enjoy about my career in safety. I relish the challenge of keeping up with the latest safety trends and technologies, which means I am constantly learning and evolving as the industry changes and grows.
I suppose my favourite is delivering training to help people learn how to stay safe in their work environment. By sharing my knowledge and experience with others, I boost the positive impact I have on health and safety in the workplace.
What advice would you give to anyone who is considering a career in Health and Safety?
Find your passion - I believe health and safety is what I am meant to do as it matches my values and motivations perfectly. We spend too much time at work to do something we don't like or believe in, so having a passion for health and safety is vital for me.
Learn from others – a combination of formal teaching and on the job experience was the winning formula for me. Seeking out opportunities to observe and assist an established health and safety manager really helped me at the start of my career.
Keep up to date - you need to be willing to continuously put time and effort into learning. Health and safety is constantly evolving and so you need to keep up to date with changing regulatory scenarios and standards.
Remember soft skills are important too! – Being successful in health and safety is not just about what legislation you know or your ability to translate this into policies and procedures that work on paper. If no one reads them or buys into your initiatives, you will not achieve the impact you hoped for. As health and safety professionals, we need to be able to communicate effectively at all levels. We need to actively listen and observe in order to understand the challenges being faced. And we need to build trust as this will help us change behaviours. Many underestimate their importance, as your interpersonal skills have a huge impact on your effectiveness, so give them the time and focus they deserve.