The NEBOSH IIRSM Certificate in Managing Risk gave me a different dimension to my existing health and safety knowledge!
Case Study: Paula Ireland - Fujitsu
Paula Ireland, MIIRSM, is a Senior Health and Safety Manager at Fujitsu, who chose to be part of the pilot for the NEBOSH IIRSM Certificate in Managing Risk. We recently interviewed Paula to find out what she thought of this brand-new qualification.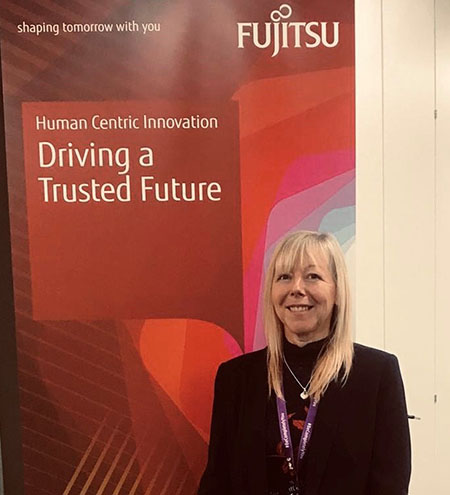 I can see that you studied Workplace Safety, Health and Welfare at University. Did you always know that you wanted this to be the focus of your career?
When I left school, I had no idea what I wanted to do for a career, I was just desperate to start working. I held a variety of jobs before I was lucky enough to secure an office manager position for a newly opened telecommunications company. Over time, more of our customers looked to us to provide health and safety information and I found I really enjoyed it! I felt I finally knew what I wanted to do, and I started to work towards becoming a full-time health and safety professional. I did a few courses and ended up going to university for three years to complete my certificate and higher diploma in Safety, Health and Welfare at Work.
You have worked in a range of industries including construction, events, manufacturing, and warehousing. Do you find it easy moving between sectors?
I have found that moving between sectors requires a change of thought process which can be challenging but offers great advantages too. For me, working in different sectors has broadened my knowledge and experience and made clear that there is always more than one way of doing things. I suppose a sector change opens your mind to alternative approaches and solutions.
You have worked for Fujitsu for 11 years and are now a Senior Health and Safety Manager. Can you tell us a little about your role and responsibilities?
When I first joined Fujitsu, I was a Health and Safety Advisor and worked with customers in the telecommunications sector across several UK sites. My responsibilities included conducting health and safety risk surveys and inspections, preparing pre-construction and construction phase plans, maintaining health and safety files, carrying out internal audits and being the external audit lead during certification audits.
I was promoted to Health and Safety Manager in 2014 and then to Senior Health and Safety Manager in 2016. Fujitsu take health, safety, and wellbeing very seriously and we were one of the first global technology providers to achieve the ISO 45001 standard for Occupational Health and Safety which I was heavily involved with. Within my current role I am responsible for the following at both a local and international level:
managing health and safety performance evaluation, monitoring and measurement processes
managing the evaluation of occupational health and safety compliance processes
implementing suitable occupational health and safety compliance audit programs
identifying and managing health and safety improvement objectives and programs
developing accident/incident investigation processes to ensure consistency in investigation, analysis, and reporting
managing non-conformity, corrective action, and preventative action processes
managing internal health and safety audit planning arrangements
managing external occupational health and safety certification and accreditation requirements
providing occupational health and safety support for new business introduction requirements
You were one of the first people to take the new NEBOSH IIRSM Certificate in Managing Risk qualification. What appealed to you about this new qualification?
Over the past two years we have seen many changes in the world, with many resulting from COVID-19. It created risks in the workplace that we have never had to manage before. For me, this made me want to add a different dimension to my existing health and safety knowledge. I wanted to enhance my knowledge of managing risk in its broadest sense, so when I heard NEBOSH and IIRSM had joined forces to develop a qualification on this topic, I immediately wanted to sign up.
What did you think of it?
It was good! The materials and course content were excellent. They provided me with the information I required and used examples to strengthen my understanding. I also liked the activities that were incorporated as these helped me explore how risk is managed within my own organisation. This qualification considers risk management beyond health and safety. It looks at how organisations are managed and governed to control and sometimes even exploit uncertainty.
What did you gain from completing this qualification?
I have gained a better understanding of the role risk management plays in strategy development, decision-making, business planning and the achievement of objectives. Since completing the course, I find I take a more holistic view of risk across the organisation rather than solely considering health and safety.
Would you recommend it to others?
Yes. It is a great qualification for anyone who is looking to understand the wider aspects of their organisation's business risks and their impacts, both positive and negative. Risk is present in all day-to-day business activities, so we need to understand the risks and their potential impacts.
Given your experience, what do you think is needed to be an effective health and safety practitioner?
A health and safety professional needs to have good communication and people skills. I think that they must be patient, approachable and confident without being arrogant. They need to be able to adapt to different situations and new challenges. Good IT skills are also a must.
What advice would you give to someone who is considering making health and safety their career?
Being a health and safety professional is not just about preventing and reducing accidents in the workplace, it is all about improving an organisation's safety culture and safety awareness. If you like variety and the opportunity to make a difference this is a great career choice for you. I have never been disappointed that I made the decision to make this my profession so my advice would be, if you have similar aspirations go for it!