The doctor of the future is here
Case Study: Dr Mahmoud Zouk
In 1903 the great American inventor and visionary Thomas Edison said: "The doctor of the future will give no medication, but will interest his patients in the care of the human frame, diet and in the cause and prevention of disease."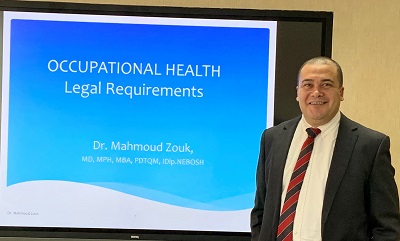 In Dr Mahmoud Zouk it appears the future has arrived. After training as a medical doctor at Alexandria University Egypt, Dr Zouk worked in the city's hospital. His interest in preventative medicine then took him to the United States, which in turn led him to become an occupational and environmental health intern at the US Department of Veterans' Affairs as part of his Masters in Public Health study at Loma Linda University.
Within 2 years, Dr Zouk's passion for occupational health saw him be appointed as a Director of Occupational Health Services at the State Department, covering the Near East Regional Medical Office of the US Foreign Service; a position he held for almost 8 years.
"A key focus for occupational health professionals is prevention, but there is another aspect that I particularly enjoy." Dr Zouk told us. "A clinical physician or surgeon will only ever work with individuals, but occupational health physicians get to affect groups too. It is this opportunity to empower and educate people to maintain their health and wellness and prevent disease that makes my job so interesting and rewarding."
Dr Zouk is no longer solely an occupational health professional; he is now an occupational safety professional too. This dual focus began when he took on a new career challenge in 2011, accepting the position of Executive Director of Public Safety at the American University in Cairo. In this role Dr Zouk gained strategic responsibility for safety, security and the environment as well as medical and occupational health.
"For me bringing health and safety together made sense and meant I could have even greater impact on the wellbeing of people. After I had made this link, there was no going back for me" explained Dr Zouk
During his time at the American University, Dr Zouk achieved the Triple Crown MBA covering human resources and leadership management, operations management and marketing with honours. The qualification helped ensure he was on top of the leadership and management strategies that drove the implementation of health and safety systems. Dr Zouk went on to successfully lead several multinational and multifunctional teams in the development and implementation of several risk-based occupational health and safety programmes.
He is now a Senior Expert within the Ministry of Energy & Industry of Qatar, where he is responsible for occupational health and safety regulatory enforcement, audit and strategy at the Qatar General Electricity and Water Corporation. It's a huge role for an organisation that is vital to the country's infrastructure,which at any one time has more than 10,000 people working on its projects.
When he took on this new role, Dr Zouk decided to formally close the gap between health and safety by taking the NEBOSH International Diploma. "Within my network, there were many senior managers and consultants who recommended this qualification to me.
"The Diploma has made me feel more confident digging into safety issues and discussing them with the team. I am not just seen as a medical doctor who has significant occupational health experience. I now have a qualification that is highly respected in the field of occupational health and safety. Overall, I believe achieving this qualification has made a big difference to how health and safety professionals see me."
---
How has your NEBOSH qualification helped you? Email us with your story: marketing@nebosh.org.uk.