Taking NEBOSH qualifications is so addictive!
Case Study: Elloyd Ballesteros
In our latest interview Elloyd Ballesteros, a HSE Officer who is based in the United Arab Emirates, explains how he got into health and safety and why he encourages others who share his passion and drive to do the same!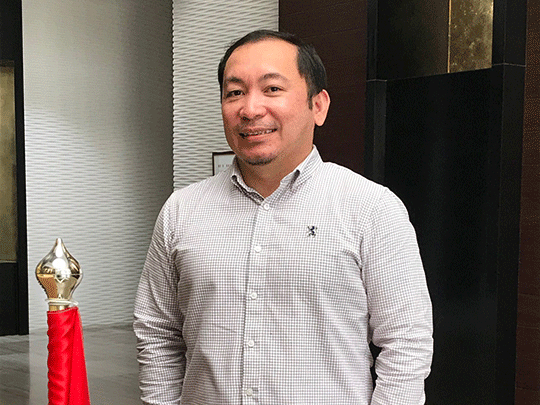 Why did you choose a career in health and safety?
The main objective for any occupational safety and health practitioner is to create a safe working environment so that workplace injuries, illnesses and fatalities are prevented. The job can be challenging at times, but it is such a rewarding vocation! It was this opportunity to make a difference that initially attracted me to the profession. I could also see that health and safety offered plenty of opportunities for advancement too.
Interesting, so what made you choose NEBOSH qualifications?
I was working as a sales attendant when I decided I wanted my career to change direction. When I was choosing between qualifications, as part of my research I looked at health and safety vacancies and to be honest, this made the decision for me! Employers recruiting for health and safety positions in industries offering job security and progression seemed to regularly specify NEBOSH qualifications.
NEBOSH qualifications could also help me join global professional membership bodies like the International Institute of Risk and Safety Management (IIRSM) and the Institution of Occupational Safety and Health (IOSH).
These two discoveries convinced me to take NEBOSH qualifications as I believed they would help me break into the profession.
Which NEBOSH qualification did you study first, and did you find it useful?
I took the NEBOSH International General Certificate in Occupational Safety and Health (IGC) and really enjoyed it. I self-funded my studies, after deciding that investing in my future was the right thing to do for me and my family back home in the Philippines.
I had to dedicate time to studying to ensure I absorbed everything and was ready for the assessment.
The money and time I invested proved to be a smart decision as, within months of completing my IGC, I secured a HSE Officer role which has paved the way for better earning.
What did you do next?
Once I started my HSE Officer role, my employer offered to support further NEBOSH studies. I took the NEBOSH International Certificate in Fire Safety and Risk Management which helped ensure the company was compliant with fire safety obligations. It also helped me to become a more well-rounded HSE practitioner.
I am now studying the NEBOSH International Diploma in Occupational Health and Safety and have passed two units so far. I am really enjoying it and am focussed on my goal to become an inspiration to others, particularly for those who want to shift their career to Health and Safety.
What impact has having NEBOSH qualifications had on your career?
In the Middle East, and in the UAE in particular, if you want to work in the HSE field, you will find that most employers require you at to hold at least the NEBOSH IGC. This qualification was key to me switching careers and my Diploma studies are now helping my continued development.
Can you explain what your current role is and how your responsibilities have changed due to COVID-19?
As a HSE Officer, I am responsible for maintaining full HSE compliance of my employers building facilities, warehouses, accommodation, and retail outlets.
Regarding COVID-19 specifically, I ensure that I keep up to date with government guidance and best practice and ensure we comply with the protocols that the government issue.
What do you enjoy most about your SHE career?
I love my job! I consider myself to be a people person and find that developing excellent working relationships helps me to be more effective in my HSE role. By building a rapport I am more likely to know what is happening and be listened to. Making a difference and keeping people safe is the most rewarding aspect of my SHE career.
Are there any aspects you do not enjoy?
Unfortunately, sometimes you can face resentment when you stop activity for health and safety reasons. When this happens, I always look at the bigger picture and know that I did my part to keep everyone safe.
What advice would you give someone who is considering health and safety as a career?
I would encourage anyone who has a passion for safety and making a difference, to pursue a health and safety career. It is hugely rewarding and even has the potential to save lives.
Remember the combination of TIME - 'Time, Interest, Money, Effort' as this will help you to succeed!
For me taking NEBOSH qualifications is so addictive! Once you pass your first you can't stop because of the sense of achievement you feel.