Supporting a beautiful garden that gives back to the community
Case Study: Mark Brassell
Alnwick Garden is a top visitor attraction in the North East of England with a difference. Rather than simply measuring its success by the volume of people passing through its gates, it has a much bigger interest in what it gives back to the community.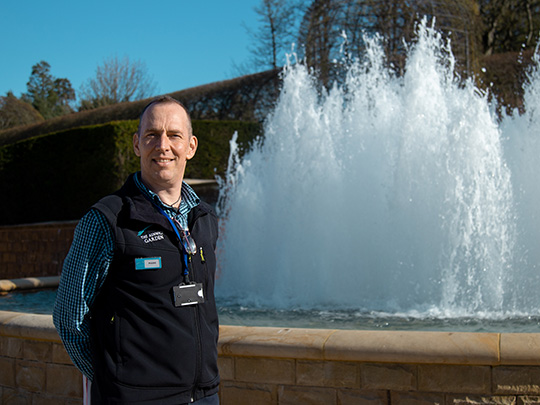 "We're a charity that was set up by the Duchess of Northumberland around 20 years ago," explained Mark Brassell, Director at Alnwick Garden. "She rescued the gardens from a derelict condition so it could become a place for families everywhere to enjoy and that locally we can all be proud of."
Mark went on to describe how revenue generated by the Garden is either ploughed back into making the attraction even better every year, or invested into its ever expanding social agenda.
"Of course we're keen to get numbers up," he said. "Over the past few years we've been focusing on events around Halloween and Christmas, because these are the times when we tend to be quieter. It's been working and we're up to around 360,000 visitors a year now. However, what this actually means is that we can do so much more to support our local community."
One initiative called 'The Elderberries' brings isolated older people together. Working in partnership with the NHS, Alnwick Garden offers regular health clinics and also supports people with dementia and those who care for them. In addition, the Garden works closely with schools to provide educational support and a young persons' enterprise initiative. It's all just part of a packed agenda focused around social contribution.
Of course, what all these activities bring, aside from comfort and support for the local community, are elements of risk. It was a conversation Mark had with one of his management team a few years ago that made him sit up and think more about health and safety in particular.
"I guess as is typical for a charity, we had someone who was responsible for facilities, maintenance and health and safety all rolled into one. To be fair they were doing a fantastic job and we were ticking boxes, but our HR Manager explained how health and safety needed to be seen as everyone's responsibility and that we could do better.
"I also think because we were expanding into the colder and darker seasons of the year and adding more things to our visitor and social agendas, we understood how we needed to get to grips with health and safety. So with that strategic decision made, it then became a matter of developing the health and safety capabilities of our team to be more skilled at identifying hazards and managing them."
The Garden - through its local university - turned to NEBOSH, with one member of staff taking a NEBOSH National General Certificate in Occupational Health and Safety while around a dozen more gained the NEBOSH Health and Safety at Work qualification. "This meant we had someone with specialist knowledge, plus people on the ground everyday who could also review incidents, learn from them and work as part of a larger team."
Mark added: "NEBOSH has supported change here, particularly around the level of importance given to health and safety. Suggestions from staff, for example, tended to always focus on customer experience, but now we're seeing a lot more around risk, which is great.
"We have a lot to protect here. For visitor attractions, safety can very quickly become a high-profile issue. Everything we have built here and that we continue to build depends on the capability of our entire team and NEBOSH has been a big big help when it has come to managing health and safety."