Success is no accident
Case Study: Rachel Crawford
"Success is no accident. It is hard work, perseverance, learning, studying, sacrifice and most of all, love of what you are doing or learning to do." Pele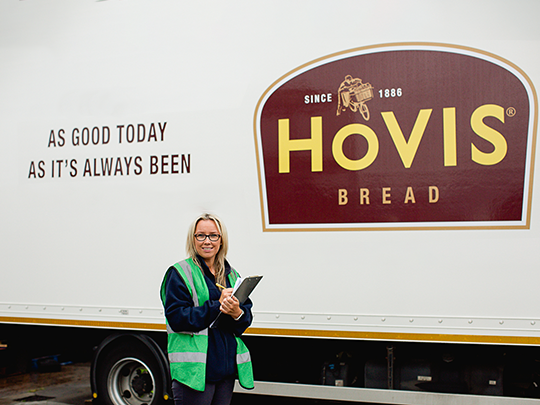 It's a sure sign of passion when you just can't switch off. For Rachel Crawford, health and safety is a lot more than just the job she does. It's what she loves to do and hopes to never stop learning about.
"Every day really is a learning day," she said. "I never feel like I know everything and as sad as it may sound to some, I'm always reading up on some guidance or getting my head into a textbook. I live and breathe it."
It is fortunate when you find passion in your work and it is even more fortunate when your employer is willing to support that passion. Rachel, 38, works for the bakery brand Hovis in Northern Ireland as its Health, Safety and Environmental Manager. Hovis' Belfast site is a major manufacturing and distribution centre with just under 300 employees and is where Rachel first found employment as a Management and Business Studies graduate.
"It's a fantastic place to work. They are so supportive as an employer and they have given me all the opportunities I've needed to get where I am today. They've helped me throughout that journey."
Having started out on the shop floor, Rachel applied for a Health and Safety vacancy back in 2007. It was a condition of the role that she took her NEBOSH General Certificate. "It was great. I was learning new things all of the time and then I was going around the site applying them. It was so helpful to me and it was then that I got hooked to be honest. It was the same with the NEBOSH Environment Certificate, which I took next."
"I then found I really wanted to do everything possible to drive up standards even further at the site. We wanted to work towards meeting the requirements of OHSAS 18001 and I was about to take on a more senior role, so it made sense to take the NEBOSH Diploma, which Hovis were more than happy to fund. Again, the qualification was perfectly aligned to my stage of development and after completing the Diploma, I was promoted again to the site Senior Leadership team."
What stands out with Rachel is that she achieved a distinction in all three NEBOSH qualifications, all whilst working full-time and bringing up three young children. "I think I'm just one of those people who wants to achieve the best results they can. I studied hard, but at the same time I really enjoyed it because, as I've said, it's the thing I love to do."
She added: "NEBOSH has really given me the knowledge and the confidence to succeed as a health and safety professional. It is something that has really been fundamental in my development and I know that without it, I wouldn't be where I am now, doing exactly the thing I want to do."