Snake venom and cryogenic gases. It's all just part of the job!
Case Study: Victoria Kelly - Manchester University School of Biological Sciences
Whenever we ask people what they enjoy about health and safety, the answer we hear most often is along the lines of: "It's the variety. No one day is the same."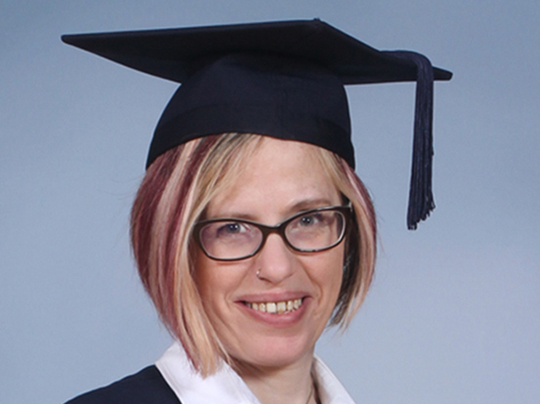 And that's just what we heard from this year's NEBOSH National Diploma Unit C 'Top Candidate' Victoria Kelly when we spoke to her, but it's fair to say Vicki's 'variety' is a little more varied than most. Her role is Compliance and Risk Manager at Manchester University's School of Biological Sciences.
"It's all about research here," she told us. "So for example, you could have someone saying 'we're going on a field trip to collect dangerous snake venom. Or you might get a risk assessment that includes the use of non-ionizing radiation to visualize DNA! To be honest, we deal with the full gamut of dangerous things here; hazardous organisms; toxins; radioactivity etc. It's a very exciting and interesting place to work."
Vicki has all the technical know-how she needs for the role. Her background is in biochemistry. She has been a lab technician and spent ten years as a biomathematics researcher. Vicki claims she never intended to end up in compliance and risk management, but that it "just sort of happened that way."
"The minute you set foot in a lab the words 'risk assessment' get mentioned and the more senior you get, the more it just becomes part of your standard role," she explained.
Vicki's NEBOSH studies began with the NEBOSH National General Certificate in Occupational Health and Safety in 2014, when she moved from being a Senior Technical Manager to the role of Safety and Risk Officer. "The Certificate helped me instantly, because I could apply what I was learning," she said. "NEBOSH became the hook I could hang things from."
Having gained a distinction in her Certificate, it wasn't long before she moved on to the NEBOSH National Diploma in Occupational Health and Safety. The Faculty of Biology, Medicine and Health at Manchester University is strongly committed to developing what it calls its PSS (Professional Support Staff), so Vicki was encouraged to progress further. Centrally, the University also "pushes NEBOSH forward a lot," as it employs a large number of Safety Advisors across its campus.
Vicki is still working towards completing the National Diploma. But she managed to score the highest mark of 2015/16 for Unit C of the qualification, which covers 'Workplace and Work Equipment Safety'.
She laughingly plays down her achievement, adding "it's just added more pressure to not fail the rest to be honest." However, she went on to say it was a "wonderful moment" attending the NEBOSH Graduation Ceremony as a VIP to collect her award.
While Vicki enjoys the variety of her role, deep down it is protecting and caring for the "very smart people" she works with, that she truly values. Having survived a brain haemorrhage earlier in life, she understands more than most how hugely important biological and medical research can be, as it can significantly improve patient outcomes.
"It isn't my job to prevent these brilliant minds from doing what can be extremely dangerous procedures. It's about enabling them to do it safely," she said. "And I guess what NEBOSH gives you really helps with that. It's a real grounding for this role, and gives you a framework for your knowledge. It helps you apply that knowledge and reassures those around that basically, you know what you're talking about."
How has your NEBOSH qualification helped you? Email us with your story: marketing@nebosh.org.uk