Because I don't want to be 'on the tools' all my life
Case Study: Simon Prince - ICR Group
When Simon Prince left school aged 16 he didn't have a single GCSE to his name. However, it made no difference at the time because his lack of qualifications didn't stop him from following his chosen career.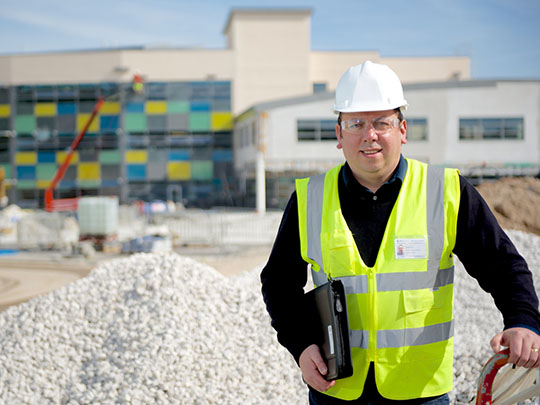 Simon wanted to be an electrician and after a college course he started working as an electrician's apprentice and was "as happy as can be."
"This was back in the early 1990s," he told us. "I was only on £30 a week at the time and a lot of my mates were earning five times that much in factories in the Midlands. They would tell me to come and work with them, but I didn't want to be stuck in the same place week in week out doing the same job. I wanted a bit of variety and I wanted to get out and see a bit of the country. Being an electrician gave me that and to be honest I loved it, and I still do really. It's is in my blood, it's what I've always done."
However, after almost 20 years in the trade Simon began to realise that while he would never lose his passion for electrical work, he didn't want to be "on the tools" for the rest of his life. He began to want more, particularly after taking on a position with a social housing company in North Wales, which extended his responsibilities.
"It was more of a management role," he explained. "It involved setting up a department from scratch, which grew from nothing to a team of ten electricians. I was responsible for their supervision and with that of course came health and safety. I found it fascinating to be honest and began to realise it was a lot more than just writing risk assessments!"
Following a conversation with a director at work, he decided to take his interest a step further and in 2013 nervously signed up for a course leading to the NEBOSH National General Certificate in Occupational Health and Safety. "When it was all explained to me and I was told it could be really invaluable to my role as the electrical manager, I said yes let's give it a go. I didn't really know what I was letting myself in for to be honest, and for someone without any GCSE's the equivalent of an A level is quite demanding."
So was it worth it? Well things couldn't really have worked out better for Simon. He now works as Small Works and Health and Safety Systems Manager for the ICR Group, an award winning electrical contracting company based in Holywell, North Wales. Last year the company was looking for someone with extensive electrical experience and a recognised health and safety qualification to support their Health and Safety Manager. Thanks to a bit of 'right place, right time' they offered him the position in September 2015.
Simon says the NEBOSH National General Certificate has been invaluable, not only in helping him to gain his new job, but also to perform in his role at work: "You need to know what you're doing. With the electrical works I know what's going on, and no one can really pull the wool over my eyes. And when I put my health and safety hat on I have the knowledge I gained from the Certificate and every day I get more experience. I absolutely love it. It's a broader field, I'm still involved in the electrical side of it and so I get the best of both worlds."
Simon is now keen on taking his NEBOSH National Certificate in Construction Health and Safety, not least because it relates even more closely to the work of his employers, and because thanks to NEBOSH's common units approach, he will only need to take the specialist parts in order to pass. We wish him the best of luck with this next step.
How has your NEBOSH qualification helped you? Email us with your story: marketing@nebosh.org.uk.