Another Way to Keep on Learning and Progressing
Case Study: Simon Dunn - BA
Simon, 34, started his career as an aircraft engineer with the RAF. His father was a safety officer, so from the beginning he had shown an interest in health and safety. When a colleague developed occupational asthma, the RAF asked Simon to take an appropriate qualification so that overall controls and policies could be improved.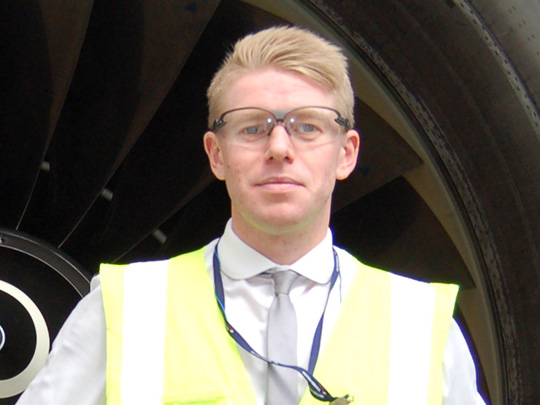 After passing his NEBOSH National General Certificate, Simon wanted to continue to build knowledge by taking further Health and Safety qualifications. He passed his NEBOSH National Fire Certificate, National Construction Certificate and then his NEBOSH National Diploma. Then a little over 5 years ago, came a turning point.
After 12 years, he decided to leave the RAF and join Civvy Street. "I was still thought of as an aircraft engineer, but in my mind I had become a safety practitioner, so I knew I had to make a change," explained Simon.
Simon joined an ambitious health and safety company running NEBOSH courses and providing consultancy in all kinds of workplaces in the UK, Saudi Arabia, Nigeria, Iraq and more. It was a steep learning curve and Simon more than rose to the challenge.
From there he gained his current position, that of health and safety advisor with British Airways. He is responsible for all aspects of health and safety within British Airways Engineering, which as well as being varied is very important.
"Biological risks, radiation from x-rays, working at height, and workplace transport. The hazards to manage are endless. It's one of the reasons I love working here. I look after around 4,000 engineers and sub-contractors and of course there is the travelling public as well. It's a rewarding job, a massive responsibility and British Airways are a fantastic business to work for."
British Airways encourage employee engagement in health and safety and aim to create and maintain a no blame culture, resulting in more accurate recording of incidents and potential hazards. For British Airways "Safety is our first priority."
The company have recently become an accredited centre to deliver NEBOSH courses leading to the National General Certificate in Occupational Health and Safety. Drawing on his previous experience, Simon will be delivering courses for British Airways managers and safety representatives to help them prepare for their examinations.
There is no doubting that Simon has the right experience, knowledge and qualifications. However, it is the moment he became a NEBOSH examiner when he claims "the lights really came on".
"I have to say, people are sometimes a little surprised when they discover I'm an examiner. After all I'm not an academic and my career in health and safety has been relatively short, albeit intensive. Overall I'd say it's one of the best things you can do and I'd recommend anyone becoming an examiner who is looking to take things one step further. It's really been a massive benefit for me."
---