Our 150,000th NEBOSH General Certificate Holder
Case Study: Sean Minnican - AMEC
Sean Minnican, a 26 year old Mechanical Engineer from Cumbria, recently passed his NEBOSH National General Certificate in Occupational Health and Safety.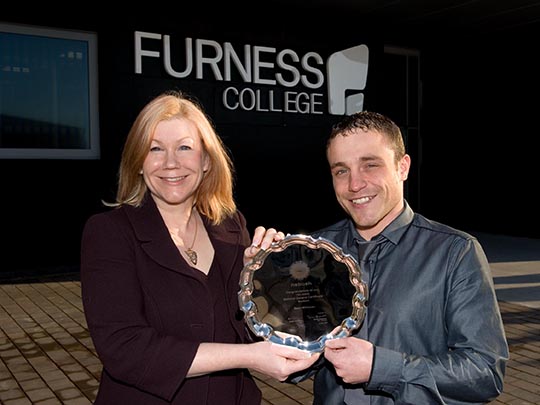 Sean's achievement was important to him as it helped him secure a new position and a step up the career ladder. But his success was also a significant moment for NEBOSH, as Sean became the 150,000th person to gain our most popular qualification.
150,000 is a lot of people. It's the same as the population of Oxford, or enough people to fill Manchester United's Old Trafford stadium twice over.
Sean was surprised when he learned of the additional significance of his success.
"It just shows how much good health and safety knowledge there is out there," he told us. "It's not like it's a throwaway two day course where you're given a certificate for attending. You have to study hard and take exams and assessments to gain your NEBOSH Certificate."
Sean recently began working for engineering, project management and consultancy company AMEC, in the area of mechanical design. It's the kind of role he's been looking for.
When he left school, Sean completed a modern apprenticeship in mechanical maintenance. He worked hard to gain an ONC (Ordinary National Certificate) and HNC (Higher National Certificate) in Mechanical Engineering. He then went on to take a degree in Mechanical Engineering, which he passed just over a year ago.
Sean believed his degree would open up more opportunities for him. He is a contractor, so it's important for Sean to demonstrate his qualities to prospective employers.
"I sent my CV off after achieving my degree and I got one or two replies, but nothing certain," explained Sean. "I think every qualification and every piece of experience and knowledge is important, so I decided to go for my NEBOSH Certificate too. I knew it was a qualification that was recognised and respected."
For the position at AMEC, a good understanding of health and safety management was vital. Ensuring compliance with Construction, Design and Management (CDM) regulations, for example, features heavily in Sean's day-today activities.
"As soon as I put NEBOSH on my CV I was offered four different jobs straight away," he said. "Now I'm forever getting phone calls and emails asking me to apply for jobs. My NEBOSH Certificate has certainly opened doors for me."
Sean says he's happy as an engineer, but is also pleased to have another career option in health and safety thanks to his NEBOSH qualification. He thinks he'll go on to take a NEBOSH Diploma course in the future.
Whichever direction he takes, we'd like to wish our 150,000th successful National General Certificate candidate the best of luck.
How has your NEBOSH qualification helped you? Email us with your story: marketing@nebosh.org.uk.