Safety is Important to This High Flyer
Case Study: Sarah Simmonds - British Airways
The things Sarah Simmonds looks after at work aren't that unusual for someone responsible for health and safety.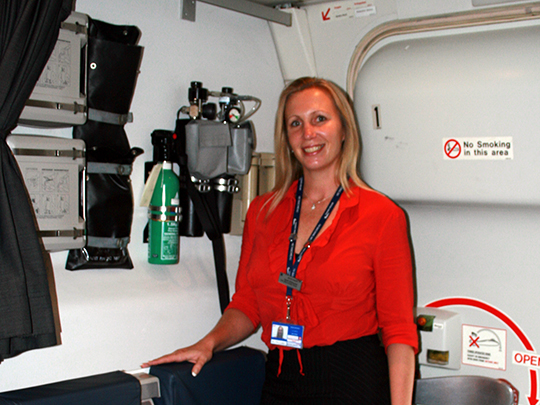 She has a welfare of staff to take care of. There's some manual handling, a lot of odd shift patterns and a fair few hygiene issues to consider. Then there's the small matter of flying 100,000 customers around the world every day to more than 75 countries and all the challenges that can bring.
But what makes Sarah's responsibilities different from most is that a lot of the time, all of those customers are also around 37,000 feet above the ground.
Sarah Simmonds is a Safety and Quality partner within In-Flight Customer Experience at British Airways. This means she's responsible for safety and quality in the cabin environment of BA aircraft - for a crew and passengers. She also ensures BA cabin crews have the correct procedures in place to meet all legal requirements. Without this legal compliance, BA could not operate as a commercial airline. Sarah has a lot to do and a lot to know.
Safety wasn't where Sarah started with BA. She left university with a first class degree in Business Information Management. She had done her industrial placement with BA and when she graduated, the airline asked her to stay on working in distribution and logistics. From there, she handled contracts with caterers around the world. Part of her role involved ensuring food hygiene and the safety of contractors delivering food to aircraft. This is where she first found her passion for safety matters.
From there, she went flying. Sarah wanted more hands on experience of life as a BA cabin crew member. She was highly trained in safety and equipment and procedures, put in shifts, made sure procedures were in place, her Operating Procedures manuals were up to date and learnt more about the various aircraft.
Although she enjoyed flying, after a few years she decided it wasn't for her long-term. So she found a new role, linked to catering, ensuring food safety standards were being met at out-stations across the world - places like Nigeria, South Africa and Canada. At the same time, she got her first occupational qualification - a diploma in food hygiene.
Sarah's interest in safety had grown so much by this time, she began saving up to take the NEBOSH General Certificate. Coincidentally, Sarah was given the chance to apply for the role she's now in. BA sponsors its safety and quality partner to take the General Certificate, so Sarah was able to save up for something else instead.
She took the General Certificate and not only passed but won the NEBOSH John Locke Award by achieving the highest mark in the year. Her employers were very proud. She appeared in the BA News magazine. This helped highlight the important role performed by all those working in Sarah's area. She's enjoyed the recognition.
Sarah says the NEBOSH Certificate is the "best course she's ever done" and it's "helped massively in her day-to-day role." Sarah believes there's nothing more important that safety. It lies at the heart of her employer's operation.
Who knows what the future might bring. But whether it's up in the air, or feet firmly on the ground, it will be all about safety - Sarah's adamant about that!
How has your NEBOSH qualification helped you? Email us with your story: marketing@nebosh.org.uk.