Problem solver finds health and safety to be his perfect career!
Case Study: Çagdas Sakinci - HSE Chief, Rönesans Holding
In this interview Çagdas Sakinci, HSE Chief for Rönesans Holding, explains why health and safety is his perfect career and why he chose to complete the NEBOSH International General Certificate earlier this year.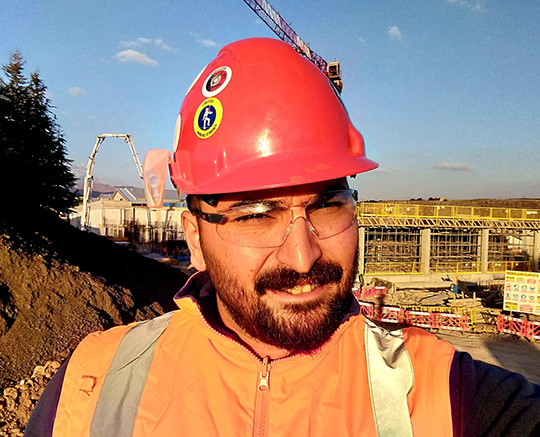 You studied geological engineering at university. How and when did your career change direction?
For the first four years after my graduation, I worked as a geological engineer. Over time the scope of my role expanded to include people management, human behaviour management, and establishing predictable working systems. I found I enjoyed these new responsibilities and was keen to do more of this type of work.
I looked at how I could achieve this and decided that specialising in health, safety, and the environment was a good option for me. I felt this profession would allow me to focus on the parts of my role I enjoyed most and, because I would be helping to keep my colleagues safe and well, it would be very rewarding too.
You secured your first HSE Engineer roles in 2013 and have worked in construction health and safety ever since. What do you enjoy most?
Working in HSE management offers real variety as there is so much to it. You don't do the same task all the time, as this profession gives you the chance to be involved in a real mix of activities. For me, this means you are always learning and developing new skills and this opportunity to focus on my continuous development is something I value.
Having started out as an engineer, I have always relished the opportunity to solve problems. Identifying an engineering solution to a challenge and following this through from design to implementation has always been very rewarding to me. I find that I still get the opportunity to problem solve in this analytical and methodical way in my HSE role. If a process isn't working well, my colleagues and I investigate why this is so we can determine a better and safer working method. After a change has been implemented, I get real satisfaction if it improves things for our team whilst protecting them too.
You recently completed the NEBOSH International General Certificate, studying in Turkish. Why did you choose this qualification in particular?
I have worked in health and safety for eight years now and in that time, I have gained lots of practical experience and have sought out opportunities to enhance my skills and knowledge.
When I signed up to the course, I was confident in my own abilities and felt the time was right to complete a formal health and safety qualification to gain proof of my capabilities.
I chose the NEBOSH International General Certificate because it is offered by a globally recognised HSE institution with high standards. I enjoyed the course and achieved what I hoped I would through my studies. It acted as a useful refresher and confirmed the knowledge I have gained through experience.
I see this to be the starting point of my formal studies and I plan to take other qualifications in the future when my workload allows.
How did it help you?
For me, it acted as a validation of what I had learned through practice and my own research. I really enjoyed the educational process, and I gained a great deal from the experience.
After passing the NEBOSH International General Certificate and adding it to my LinkedIn profile, I saw interest in my profile on career and experience sharing sites increased significantly.
You have recently secured a new role at Rönesans Holding as HSE Chief, please can you tell use a little bit about your role and responsibilities?
Rönesans Holding ranks 23rd in Engineering News Record's (ENR) 2020 "World's Top 250 International Contractors" list and 9th in Europe. Its the largest Turkish contracting company and as its HSE Chief, I spend my time overseeing all aspects of HSE management including monitoring, trend analysis and putting in place proactive controls in the workplace.
What are your long-term career aspirations?
I really enjoy my role and want to continue doing this for as long as I can. I get to interact with colleagues to find solutions to challenges every day and I love this opportunity to make a difference.
If I have enough time and can find resources, I would like to explore how technology and software can be utilised more effectively in HSE as I feel these resources always come late to the HSE sector. I think predictability can be increased if we could use more technology in some HSE-critical processes.
I have also always enjoyed examining behaviour-based safety (BBS) so I would like to expand my knowledge of this if I can.
What advice would you give to those whose health and safety career is just beginning?
If I have a colleague who is interested in a career in HSE, I encourage them to spend time in an operational role first. Hands-on experience is so valuable when you review processes to identify the points where things can go wrong. There is nothing to stop you seeking health and safety experience at the same time, and this approach really worked for me. Gaining on the job health and safety experience, means you can check that HSE work is what you think it will be before making the move to a permanent HSE position.
I encourage all health and safety professionals to be open and inquisitive. When faced with a challenge, make sure you have all the facts and have tested your theory before making final recommendations. I suppose I am encouraging a scientific approach, which is no surprise given my background!