Prepared for one of the greatest challenges of our time
Case Study: Lucian D'Arco
"One of the things I find having a strong NEBOSH background does is it prepares you very well for dealing with unfamiliar situations. Basically, you can draw on a wealth of information to help you problem-solve."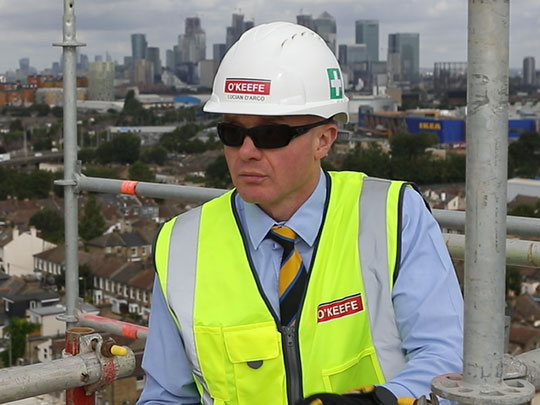 These were the words of Lucian D'Arco, Group HSE Leader at O'Keefe Group, just a matter of months ago when we first discussed his NEBOSH qualifications and the difference they've made in his career. Little did any of us know at that moment what kind of global problem we would all soon be facing!
The Covid-19 pandemic is a challenge like no other. Its impact is already far greater than any other in living memory. At the time of writing we find ourselves in the midst of the crisis and we're all having to adapt in ways we never imagined.
In the UK, we've entered a period of "lockdown" designed to limit the spread of infection and prevent our precious National Health Service (NHS) from being overwhelmed. This has led to widespread workplace closures and all but essential services being maintained.
For Lucian D'Arco, the build-up to the lockdown and its aftermath has been incredibly busy. O'Keefe Group is a civil engineering contracting business, operating on significant infrastructure projects within London and the South East of England. Although most of its operating sites have now closed to protect staff, their families and the general public, there has been a need to make these projects safe and for a few "essential works" to remain open.
"It's been a case of reframing procedures to create a bolt-on Covid-19 Safe System of Work," said Lucian. "Basically, this means a lot more than simply adhering to guidance around social distancing. On the projects that need to continue, and those we've been shutting down, we've been treating them almost like they're a hostile asbestos environment."
He added: "I've certainly had to come up with some novel HSE methodologies in the past few weeks."
Lucian has a military background and this, combined with a NEBOSH Diploma, helped him with his application for his first health and safety management role.
"So I cleared those two hurdles and that put me on the path to where I am now," he said. "To be honest, my NEBOSH qualifications have been a golden ticket for me. Without them I wouldn't be in this hugely rewarding leadership role.
"And as I said previously, when you've taken the time to assimilate the knowledge NEBOSH gives you, it prepares you for almost anything. It gives you those baseline strategies to deal with, whatever gets thrown at you - something I've found useful throughout my career, not just at this incredibly challenging time."