Once I passed the NEBOSH IGC with Distinction, my confidence grew!
Case Study: Sivadasan Pariyarat, Deputy EHS Manager at SIEMENS SMO GMBH
Sivadasan Pariyarat, known as Siva, is Deputy EHS Manager at SIEMENS SMO GMBH. In this interview, Siva talks about his NEBOSH experience and the impact it has had on his career.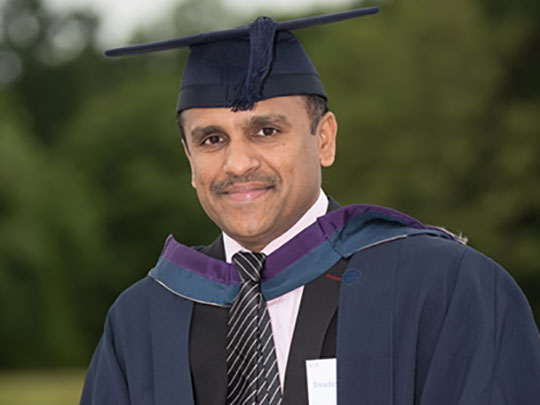 In 2009, you completed your NEBOSH International General Certificate in Occupational Health and Safety (IGC). Why did you pick this qualification?
I chose NEBOSH because its qualifications were recommended to me by my colleagues, and I could see they are well recognised in the health and safety field. At the time, I was working as a HSE officer on the Dubai Metro Project and I felt the NEBOSH International General Certificate would help me do my job better and support my future progression. I worked hard on my NEBOSH studies and was delighted to pass with distinction on my first attempt.
After completing this qualification, I can see you secured your first health and safety management position. Do you think your IGC helped?
Of course, I have no doubt about this. Once I passed the NEBOSH IGC with distinction, my confidence grew, and I began searching for a new challenge. Within a year of passing my IGC, I had secured my first safety manager position. The role was working on the Chennai Metro Rail Project, and I managed a team responsible for ensuring that approximately 10 construction project sites were safe and accessible. It was a very varied role, and I got to be part of a great team. Without my NEBOSH qualification I would not have even made it onto the shortlist for this role.
In 2014, you completed your NEBOSH International Diploma in Occupational Health and Safety. How did you find it and how do you think it benefitted you?
I struggled at first but, once I started to get into my studies, I realised that I could achieve this goal. I found the exams challenging; however, they did not deter me from continuing my learning. I just had to apply myself to the task and make time for my studies. I believe achieving both the IGC and the International Diploma, allowed me to learn a substantial amount about health and safety and this knowledge is proving vital in my current role. I am sure it will continue to underpin my future development and growth.
My NEBOSH Diploma has allowed me to achieve Chartered Member status of IOSH (CMIOSH) and I am also a Certified Fire Protection Specialist (CFPS) by NFPA.
After I completed my Diploma, I didn't want to stop learning so I have since passed an MBA in Safety Management Systems (SMS) and also attended RAMS in Railway Systems from Indian Institute of Technology Kharagpur.
My long-term aspiration is to become a Chartered Fellow Member of IOSH(CFIOSH).
What do you enjoy most about working in health and safety and is there anything you do not like?
I enjoy helping others and take great satisfaction from knowing that I help people go home at the end of the day safe and well. What I do not like is when, despite our best efforts, others choose to not work safely. It annoys me when I see anyone failing to prioritise their own life by practicing unsafe behaviours; ignoring their family's need for them to come home safely at the end of their working day.
What advice would you give to someone who isn't currently working in health and safety but wants to?
Research the qualifications available to you and the Learning Providers who offer them. Identify the course delivery that suits you. For me, it is vital to build up your competency through a mix of qualifications and experience. It is important to select the right qualifications for you and I think the NEBOSH International General Certificate and International Diploma in Occupational Health and Safety are great choices if you want to work in the Middle East. Employers tend to specify NEBOSH qualifications for Health and Safety positions in countries like UAE, Oman, Qatar, and Saudi Arabia.
I would also recommend finding yourself good mentors who can offer you the guidance and advice you need to succeed.
I found that having a career development plan has really helped me because it made me think about what I wanted to achieve and focus on the things that could make it happen. Take the time to create your own and update it regularly.
What are your tips to landing your first opportunity in the profession?
Having given considerable thought to this question, I would say my top tips are:
Do not be afraid to try something new. There may be a fantastic opportunity in a sector you have not thought about yet.
Take the time to identify personal objectives and use these to shape your career plans. If you are clear about what you want to achieve this will help you establish how you get there!
Gain the winning mix of qualifications and experience - it is vital to ensure your experience is backed up by relevant and recognised qualifications because based on my personal experience, this opens more opportunities.
Always be honest - I feel this is an important that attribute for a Health and Safety Professional to have.
Work hard to make safety the first priority within your organisation - I believe, protecting the health and safety of all workers at all times is the right thing to do. Effective development and maintenance of a health and safety management system is a proactive approach to eliminating workplace injuries and illnesses. For me, safety should always be our first priority!!