'Nothing comes near the NEBOSH standard''
Case Study: Robert Williams - Wales & West Utilities
"NEBOSH qualifications are a must as far as I'm concerned. Nothing comes near the standard they set," said Robert Williams, who has recently taken our newest qualification the NEBOSH HSE Certificate in Process Safety Management.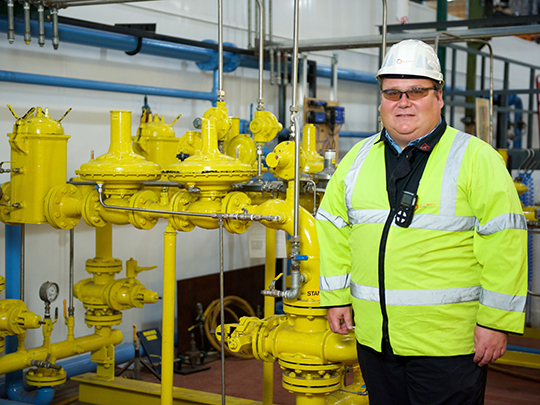 Robert is Health, Safety & Environmental Manager (Operations) at Wales & West Utilities. The company employs around 1,300 skilled people and supplies gas to approximately 7.5 million homes and businesses throughout Wales and the south west of England.
"It is part of our mantra here to protect life and property and of course it's essential when you're working with such a hazardous substance," Robert told us.
There is clear evidence of the positive approach that is taken towards health and safety at Wales & West Utilities in the awards it has won. In recent years the company has scooped a NEBOSH sponsored RoSPA Gold Award and the Institution of Gas Engineers and Managers (IGEM) Gas Industry Safety Award. Robert described his employers as a great company to work for and told us working in a health and safety role there is "really enjoyable".
Robert's background is in construction, having previously worked as a civil engineer. He moved into health and safety after supporting an investigation into a fatal incident which tragically occurred while he was working with a previous employer. "There were a few failings relating to the incident and to be honest I said I never wanted to hear of anything like that happening again. That's really what led me into health and safety."
He was encouraged by colleagues to take the NEBOSH General Certificate in Occupational Health and Safety and then the NEBOSH Certificate in Construction Health and Safety. These qualifications helped him to advance his safety career and also played a big part in him securing his current role with Wales & West Utilities, where qualifications are highly valued.
Most recently Robert was given the opportunity to add to his NEBOSH qualifications by taking a brand new and more specialised course, the NEBOSH HSE Certificate in Process Safety Management. This qualification was jointly developed by NEBOSH and the Health and Safety Executive (HSE), the UK Regulator. It is designed to provide core specialist knowledge and understanding to managers, supervisors and safety professionals working in potentially hazardous process industries such as oil and gas, chemicals, plastics and pharmaceuticals.
"Since moving out of construction and joining Wales & West Utilities seven years ago, I've had to learn a lot about the gas industry and process safety. So I'd already built up knowledge, but you know with NEBOSH you are going to get a good qualification at the end of it, and in this case an internationally recognised qualification at that."
Robert and his manager, who took the NEBOSH HSE Certificate in Process Safety Management at the same time, can now see great potential for some of their colleagues taking the qualification as well. "We have two guys here who have just come to the industry from a construction background like me, and they too have done NEBOSH qualifications previously. We feel it would be good for them to take this new NEBOSH qualification now when they are new to process safety as it provides the core knowledge they need."
Robert added: "It's certainly a worthwhile new qualification and there's no doubt it has two very strong names attached to it in NEBOSH and HSE."
How has your NEBOSH qualification helped you? Email us with your story: marketing@nebosh.org.uk