No 'stick in the mud' when it comes to adventure
Case Study: Claire Guise - Marie Curie
Claire Guise has thrown herself into a number of challenges in recent years. Not only has she trekked across Vietnam, conquered the Grand Canyon and hiked along the Great Wall of China, she's also completed her NEBOSH National Diploma in Occupational Health and Safety.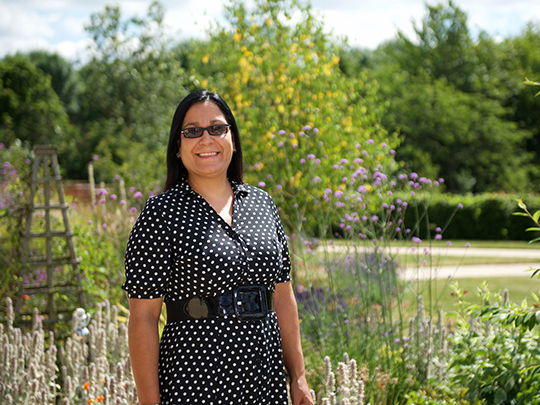 Her achievements have been motivated by the charity Marie Curie, where Claire is employed as Health and Safety Manager. Claire has responsibility for health and safety across the business, employing more than 2,000 nurses.
The West Midlands hospice was built just five years ago. As Claire had previously taken her NEBOSH National Certificate in Construction Health and Safety she was able to make an invaluable contribution to the build through her knowledge of CDM and site safety. However, her input did not end there. Claire's Grand Canyon trek also helped raise money to support the build and she has continued to raise funds for Marie Curie ever since.
Claire told us: "The hospice here provides care and support for people living with terminal illness and their families. I'm incredibly attached to this place and immensely proud to work for such an amazing organisation."
Like many other health and safety professionals, Claire's career began when she took on some ad hoc responsibilities as part of another role. She used to work as a Purchasing Officer for a manufacturing firm and the company asked her to deal with some health and safety issues. The business was struggling and unfortunately Claire was laid off. It was at this point she decided to use some of her redundancy money to gain a NEBOSH National General Certificate in Occupational Health and Safety in the hope she might secure a full time health and safety position. The move paid off, with a role firstly in the public sector and then with a health and safety consultancy firm. Claire went on to take three more NEBOSH Certificates, in construction, fire safety and environmental management, which led to her landing her "dream job" with Marie Curie seven years ago.
"There are a surprising number of issues that need to be managed here," explained Claire. "Besides the usual day to day risks, there's fire safety, issues around construction and contractors and, of course, all the exciting creative ideas our fundraising come up with.
"Taking the NEBOSH Diploma has helped tremendously with the depth of knowledge I've needed here at Marie Curie and with applying that knowledge of course. Tunnel vision is certainly not what's required here. It's also very important to keep that knowledge up to date and being part of the new NEBOSH Alumni has been really beneficial from that perspective.
"Passing my Diploma is right up there with all of the big adventures I've been on in recent years. The treks themselves have been unbelievable and as well as raising money they've helped keep me motivated and increased my enthusiasm for the job. For me it's all about enabling. It has to be."
Claire is about to embark on her next big fund-raising adventure in September, with a trek to the top of Mount Olympus in Greece. This one has special meaning for Claire, who very sadly lost her Dad to cancer in 2016. "I now understand even more what terminally ill patients and their families go through and the incredible care and support organisations like ours can give to people. I'm doing this one in his memory."
If you would like to find out more about the work that Marie Curie does, please visit its website at: https://www.mariecurie.org.uk/
How has your NEBOSH qualification helped you? Email us with your story: marketing@nebosh.org.uk.