Career Switch Pays off With NEBOSH Qualifications
Case Study: Nick Shaw - VTCT
A couple of years ago, after a 20 year long career Nick Shaw decided it was time for a change. What happened next was a little unexpected…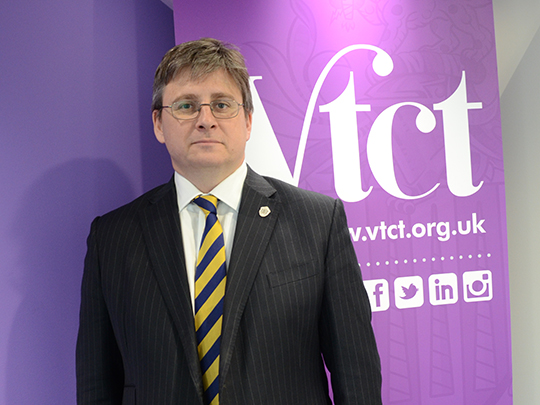 Nick, 46, initially trained as a Chartered Surveyor before embarking on a career as an estate agent in a management position.
Twelve hour days and six day weeks eventually took their toll, so his girlfriend asked if he would like to help out where she worked, at the head office of the Vocational Training Charitable Trust (VTCT) in Eastleigh, Hampshire.
VTCT are a charitable trust offering vocational qualifications both in the UK and overseas in areas including hairdressing, beauty, hospitality, catering and retail.
When the company found a new headquarters, which was in need of substantial refurbishment, they quickly took advantage of Nick's years of property experience and appointed him to the position of Facilities Officer, effectively handing over the day to day responsibility for the project to him.
Negotiations, planning, refurbishment, project and operational management - Nick had everything in his skill set needed to transfer operations to the new HQ. The only thing missing was health and safety. His employer regarded NEBOSH as the only safety qualifications worth having, so their advice was simple – get a NEBOSH Certificate!
As VTCT is a registered charity, Nick qualified for a grant from the Charities Safety Group to study the National General Certificate in Occupational Health and Safety which he passed with a credit thanks to the support of his course provider Corporate Risk Services.
Because several NEBOSH Certificate level qualifications have common units, he quickly took the National Certificate in Fire Safety and Risk Management with the support of VTCT. Doing this within 5 years meant that he didn't need to sit the first part of the exam (NGC1) again. Nick is taking full advantage of this and is now studying the National Certificate in Construction Health and Safety, after which he's looking to further his education to Diploma level. His ultimate goal is to gain CMIOSH.
"My NEBOSH qualifications have been incredibly helpful," Nick added. "Dealing with contractors, CDM Regulations and just generally ensuring the safety of everyone involved. It's made a real difference. I grew up playing on a local farm and probably did everything I shouldn't have as a child. My attitude to health and safety has completely changed as a result of NEBOSH and this project."
"I wouldn't hesitate in recommending NEBOSH to others. It's great so go for it! It improves your awareness and I think it improves your standing and respect from your colleagues."
How has your NEBOSH qualification helped you? Email us with your story: marketing@nebosh.org.uk.