NEBOSH success makes Nithin the 'go-to guy'
Case Study: Nithin Pavithran - Expo Project Engineering Sevices Pvt
Often a vocational qualification can help to raise your profile at work. For Nithin Pavithran, this has certainly been the case, with the NEBOSH International General Certificate in Occupational Health and Safety transforming him into the 'go-to guy' when it comes to occupational health and safety.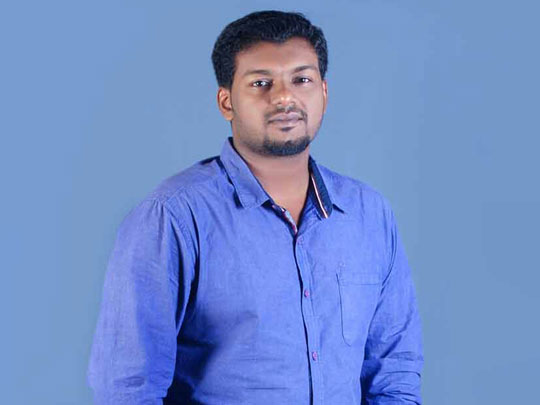 Nithin not only passed the International General Certificate, but he was NEBOSH's 'Best Candidate' last year; achieving the highest mark of all those who took the qualification in 2016/17. His incredible success has meant his career has progressed significantly following recognition from both management and colleagues at work.
Nithin is employed by Expo Project Engineering Sevices Pvt Ltd, based in Gujarat, India. The company provides maintenance, installation and repair services for the chemical, petrochemical and fertiliser industries. Safety is very important to the business.
"The company's strategy is to plan and complete every project with extreme care, giving due regard to health, safety and the environment." explained Nithin. "I am happy that I am part of a team which sees safety as more important than productivity goals and profits. This is how health and safety should be, taking care of colleagues as a family would."
Nithin initially joined Expo after completing a Mechanical Engineering Diploma with Udaya Institute of Technology, Nagercoil, Tamil Nadu, which he achieved with distinction. However, he said he has always been interested in workplace safety and this ultimately led to him signing up to take a NEBOSH qualification.
Several of his colleagues had already passed the introductory NEBOSH Health and Safety at Work Award, but Nithin decided to go further. He took time off work to take a course leading to the NEBOSH International General Certificate in Occupational Health and Safety.
"I realised if I wanted to become a Health and Safety Practitioner I needed a much deeper understanding of the occupational hazards and risks faced in the workplace," said Nithin. "I wanted to know more about a standardised system with global value. I also wanted to get acquainted with more experienced personnel who could provide me with guidance and offer support for my career progression."
Nithin's commitment to the course showed in his results. "I was overwhelmed with joy and surprise," Nithin told us. "I always felt I could pass the assessment, but being in the running for the Best Candidate Award never crossed my mind."
He added: "My employers were very proud and happy with my achievement. They have since asked for my suggestions on how we can make our Health, Safety and Environmental policies more effective. Taking the certificate has boosted my confidence; I have a got clearer picture of hazards and worksite problems at both a practical and management level. It's also developed my communication skills which has helped me to positively influence the safety culture in my workplace."
Nithin's plan is to now take the NEBOSH International Diploma in Occupational Health and Safety as part of his personal development plan: "I understand there is a need to evolve and become more familiar with global standards and make yourself versatile in every field of work to become a good HSE professional and practitioner. The International General Certificate in Occupational Health and Safety has given me the confidence to push forward and progress to an advanced level."
How has your NEBOSH qualification helped you? Email us with your story: marketing@nebosh.org.uk