NEBOSH set me up for success
Case Study: Matt McDonnell - B&Q
When Matt McDonnell talks about health and safety, he tends to focus on the needs of his colleagues as well as the technical processes involved. It's hardly surprising given his background as a retail manager. Successful retailers tend to be customer orientated rather than simply being product focused.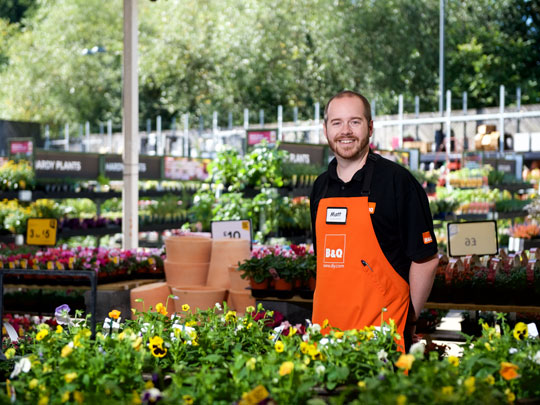 Matt, 36, is now Health and Safety Adviser at B&Q, where his approach fits in perfectly. He sees his colleagues as "customers" in need of advice and guidance rather than rules and regulations. Matt works at what we would call B&Q's head office in Hampshire. However, B&Q don't use the term "Head Office". Instead they refer to it as their "Store Support Office" where the 1,800 people who work there serve the needs of 24,000 colleagues based at the company's retail outlets throughout the UK. It's an interesting insight into the culture that exists there.
Matt told us: "I absolutely love this job, especially when you give someone a little nugget of safety advice and you see the penny drop. As a safety professional you want to make a difference and you want your colleagues to respond positively. For me, this is the key to protecting everyone from harm."
Matt's journey to his current role began 17 years ago when he decided not to go to university aged 19. He instead took a full-time role at a high street clothing retailer where he had been working Saturdays. Matt's potential was quickly recognised and he was chosen to be part of the organisations fast track management programme. By 2001, he had worked his way up to store manager, but had by this time become interested in health and safety. He took his NEBOSH National General Certificate in Occupational Health and Safety, which helped him into his first health and safety role within the same retail group. He then went on to gain the NEBOSH National Certificate in Fire Safety and Risk Management and NEBOSH Certificate in Environmental Management. He briefly left retail for two years, but when nearing completion of his NEBOSH National Diploma in Occupational Health and Safety Matt applied for his present position at B&Q.
"NEBOSH really set me up for success and helped me develop my career quite rapidly," he told us.
"I'd gone as far as I wanted to in retail management and was looking for a change. Here I am just seven years later and I find myself part of a profession with a lot of opportunities. It's also allowed me to keep working in an industry that I know and love. What could be better?"
Matt added: "After deciding not to go to university earlier in my life I'm really proud of my Diploma qualification. One of the reasons I chose the Diploma was the prestige that surrounds it. Everyone recognises there is a genuine challenge in achieving the NEBOSH Diploma and there's also great confidence in it. It gives B&Q reassurance and kudos to say they have a NEBOSH Diploma holder offering competent advice.
"And it's not just the Diploma. I have a degree qualified colleague who chose to take the NEBOSH National Certificate in Construction Health and Safety a few months ago because she was advising on store refurbishments. NEBOSH qualifications can be both relevant and suitable at any point in your career!"
How has your NEBOSH qualification helped you? Email us with your story: marketing@nebosh.org.uk