NEBOSH qualifications helped me change my career for the better
Case Study: Lewis Hunt
Lewis Hunt, is HSQE Manager for Soilfix Limited. In this interview, Lewis talks about his NEBOSH experience and the impact it has had on his career.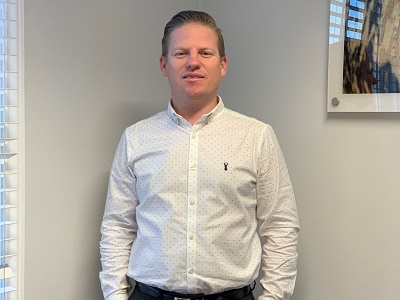 Lewis, I can see you spent your early career in hospitality and retail before moving to an asbestos solutions provider. Is this where you began to take on more health and safety responsibilities?
Yes, although health and safety was also a significant part of my role in retail too. Licensed asbestos removal is extremely hazardous and considered a very high-risk industry to work in. My time in the industry certainly broadened my health and safety knowledge, particularly in relation to the Control of Asbestos Regulations (2012).
In 2018, you completed your NEBOSH General Certificate in Occupational Health and Safety. Why did you pick this qualification?
At the time, I was at a crossroads in my working life. I was enjoying my job, but I had promised myself that I would only spend five years directly involved in the removal of this hazardous material. I know first-hand the potential health implications that can result from longer-term exposure as my grandad died from an asbestos related illness.
I wanted a career that I could see a future in and, after discussing my options with family, I decided health and safety was the best way forward for me. A colleague, who had recently completed the NEBOSH National General Certificate in Occupational Health and Safety, recommended it. I did some research and discovered it would help me broaden and develop my knowledge and could act as the foundation for a health and safety career.
Shortly after you completed this qualification, you joined your current employers, Soilfix, as Asbestos Manager. Do you think your NEBOSH qualification helped you secure this position?
100%. I had hoped to develop a more health and safety focused role with my then employer but, just before I found out I had passed, it became clear this would not be possible. At that time, Soilfix, who I had worked with previously on projects, offered me a great opportunity to join as its Asbestos Manager. The great thing was other health and safety tasks would fall within my remit. The job seemed perfect for me because it built on what I had done previously but gave me a chance to gain wider safety experience. My NEBOSH General Certificate helped me get that job and started me on this career path.
Can you tell us a little bit about the services Soilfix offer and why health and safety is so important?
Soilfix provide award-winning remediation solutions including decommissioning, decontamination and demolition to the development, industrial, commercial and public sectors. Health and safety is important for us because there are many hazards associated with remediation work including the removal and treatment of pollution and contaminants.
Did you choose to take the NEBOSH Construction Certificate because of the work Soilfix does?
Partly, but it was also a way to keep my CSCS card despite the changing focus of my career. My Asbestos Removal Management Institute qualification was due to expire and when it did, I would no longer have a qualification recognised for the industry-related CSCS card. The NEBOSH Construction Certificate provided a route to apply for the 'professionally qualified person' CSCS card.
How did you find the NEBOSH construction certificate course and was the content useful to your role?
I struggled at first but, once I had created a study plan to keep my online learning on track, it got easier.
All the NEBOSH construction certificate's content was relevant to my role. Soilfix is often the Principal Contractor on projects, so the focus on the Construction (Design and Management) Regulations 2015 was invaluable and the construction related workplace hazards was also particularly useful.
In May 2020, Soilfix promoted you to HSQE Manager. What are your key responsibilities now and how are you finding it?
It is a really varied role and my key responsibilities include:
Supporting the provision of effective safety leadership and leading the ongoing growth and development of HSQE systems
Providing HSQE support to the project delivery team
Undertaking HSQE inspections and audits for all live projects
Reviewing and leading the continuous improvement of our HSQE documents, policies, and procedures
Supporting the development of HSQE policies, strategies, and action plans
Monitoring emerging, new, and revised legislation; assessing the impact for Soilfix
Attending operational meetings to report on HSQE events and provide regular updates on key HSQE issues and initiatives
Maintaining all mandatory training and regularly reviewing the training needs analysis across the business
Reviewing and providing guidance on project HSQE documentation in support of the project teams
Supporting the operations team to organise project resources, when required, to ensure the efficient and safe running of contracts.
When I started my NEBOSH journey this is exactly the type of role I hoped to secure. I am so fortunate to be in this position and am lucky to work for an employer that is supportive of me.
The NEBOSH Incident Investigation qualification was the next qualification you completed. Why did you choose this one and how helpful was the content?
We had a couple of near-misses and minor accidents in close succession and I was struggling to methodically identify a clear approach to effectively investigate them. I felt it was a gap in my skill set and therefore chose to take the NEBOSH and HSE qualification. It was enlightening and encouraged me to adopt a conversational and non-confrontational approach when interviewing those involved in an incident.
Lewis, you are averaging a NEBOSH qualification a year which is impressive! What are you planning to do next?
I know, I seem to be addicted! Even though I find examinations challenging, it has not deterred me from continuing my learning. I am currently preparing to complete a 4-day course with the Construction Plant Competence Scheme (CPCS) for Appointed Person A61. This will help me gain the necessary theoretical and practical knowledge to be Soilfix's responsible person for the execution and safety of lifting operations. Once I have completed this, the next thing on my development plan is the NEBOSH National Diploma in Occupational Health and Safety. My long-term aspiration is to become a Chartered member of IOSH.
Amazing. Best of luck with the CPCS course. What do you enjoy most about your HSQE career?
It is so varied, which means no two days are the same. I love being the go-to person for health and safety related queries. My colleagues are starting to see the benefit of discussing potential issues with me; so they can use my experience to chat things through and problem solve together. I am working hard to identify ways of increasing the focus on improving Health and Safety and we are seeing positive changes in the Soilfix culture. The thing I enjoy the most though is that this career allows me to satisfy my voracious thirst for attention to detail!
What advice would you give to someone isn't currently working in health and safety but wants to? What are your tips to landing your first opportunity in the profession?
Research the qualifications available to you and the training providers who offer them. Identify the course delivery that suits you. Some will prefer classroom training, while others like me, will prefer distance learning. You need to build up your competency through a mix of qualifications and experience. It is important to select the right qualification and for me, the NEBOSH General Certificate is a great place to start. My top tips are:
Use all the information and networking opportunities available to you such as joining professional membership bodies like IOSH.
Do not be afraid to try something new. There may be a fantastic opportunity in a sector you have not thought about yet.
Take the time to identify personal objectives and use these to shape your career plans. If you are clear about what you want to achieve this will help you establish how you get there!
---