NEBOSH qualifications contribute to a better technical understanding of Occupational Health and Safety
Case Study: Refraline Group
NEBOSH caught up with Jacques Krog, Refraline's Group SHEQ Manager to see how NEBOSH has played a vital role in Refraline's competency framework.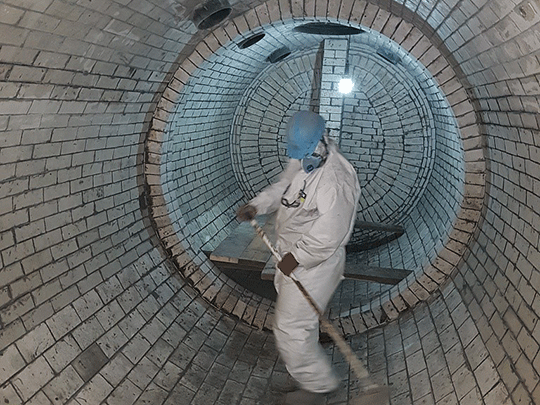 Can you tell us a little bit about Refraline?
Refraline is a South African based company specialising in refractory and corrosion engineering. Its core workforce of over 300 permanent skilled staff is supplemented by a significant number of temporary workers.
In South Africa, Refraline's head office is in Gauteng with satellite sites in Durban and Richards Bay. The company also has maintenance sites at many of its larger clients' premises too. Refraline operates internationally and has completed work in Malaysia, Israel, South America and other African countries in recent years.
The company operates in a number of sectors including iron and steel, ferro-alloys, non-ferrous metals, power generation, petrochemical, glass, cement and lime, brickmaking and ceramics.
It is very clear that SHEQ is central to everything the company does? Can you explain how this works in practice and why it is so important?
Safety, health, environment, and quality are a fundamental part of Refraline's management philosophy. It is essential for us to take this approach as many of the industries we work in and businesses we work with are considered high risk.
As a company we adopt health and safety management system standards such as ISO 45001 and international best practice. Our dedicated SHEQ division, which has expertise from many different aspects of health and safety and environmental management, facilitates this process. We consider ourselves as improvement facilitators and the mission of the division is to facilitate, mentor and guide the company to be the best from a SHEQ perspective.
As Refraline's Group SHEQ Manager you play a key role in ensuring that health and safety is always considered. What advice would you give to others hoping to achieve this?
The health and wellbeing of our workers and others is a fundamental value in the company and is engrained in the company culture.
When the senior management team developed and discuss strategy SHEQ is always a key consideration. In fact, it is fundamental to all decisions made in the company at all levels. We have achieved this by investing in training and emphasising the importance of health and safety at every opportunity.
A mentor once told me that SHEQ is the pulse of the organisation because it involves two fundamental aspects, customers and employees.
It is great to hear that Refraline places high importance on providing the right training to its workforce. Can you tell us about the SHEQ training you provide and how you identify key priorities?
In 2019, Refraline decided to adopt the Singapore Accord on the standards for health and safety that was developed by the International Network of Safety & Health Professional Organisations. We built the requirements specified in the Accord into the job profiles for in the SHEQ division. We ensure that the training providers who we use adopt the highest standards in latest training information and design.
SHEQ training is also provided for all levels in the company. The training we offer is reviewed all the time based on legal and customer requirements, international best practice as well as the risk profile of the relevant job.
Do you think other companies should invest in health and safety training and why?
Yes absolutely! SHEQ training involves so many different skills and has a broad knowledge base. The skills you gain from this type of training help you in other aspects of your job and your personal life too because of the focus on problem solving and communication. When this training is implemented correctly you will see an improvement in the bottom line as well as in company culture.
The NEBOSH International General Certificate features on Refraline's competency framework. Can you explain which roles this is for?
We set high standards for all our health and safety professionals. Once an employee has completed a set of local training courses and secured on the job experience they are registered as safety officers. We then develop them further by placing them on the NEBOSH International General Certificate in Occupational Health and Safety and some will go on to specialise in courses such as the NEBOSH International Technical Certificate in Oil and Gas Operational Safety. SHEQ Coordinators, must also do the NEBOSH Certificate in Environmental Management.
What difference do you think embedding NEBOSH qualifications has had to your company's operations?
NEBOSH qualifications contribute to a better technical understanding of Occupational Health and Safety (OHS) and allow us to compete and contribute on an international scale.
Refraline undertakes projects all over the world, so our SHEQ Professionals must have an understanding of global standards and information. Refraline are always at the forefront of health and safety best practice in our field. In our industry we were this first in South Africa to adopt the old OHSAS 18001 standard and we were also one of the first to undergo the transition to ISO 4500.
We have won numerous safety awards from our clients and in the industry and contribute to the body of technical knowledge regarding SHEQ in South Africa. We also help other companies including suppliers and interested parties in achieving legal compliance and SHEQ Management systems and standards. None of this would have been possible without the investment we have made in training generally and in NEBOSH specifically.
Jacques, you have personally completed the NEBOSH International Diploma in Occupational Health and Safety and the NEBOSH National Diploma in Environmental Management. What impact have these qualifications had for you?
NEBOSH Diplomas are the gold standards in Safety, Health and Environmental qualifications all around the world. Not only do these qualifications give you the technical knowledge required, but because of their credibility, they elevate your status in the industry. People who have achieved these qualifications are some of the best in their fields in relevant countries and are featured on the NEBOSH website in case studies and publications. For me it has contributed to the never-ending journey of becoming a professional and specialist in my field.