NEBOSH 'puts you at the top of the pile'
Case Study: Rick Phillips - Humberside Airport
"For me it is vitally important to be seen as someone who knows their stuff. Choosing the right qualification is a big part of that."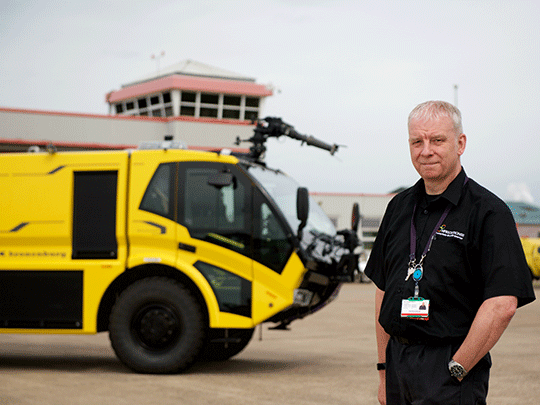 With 30 years' experience within Humberside Fire and Rescue Service, it could be argued that Rick Phillips had little to prove in terms of competence and capability in his role as Senior Fire Officer at Humberside Airport.
It's a role Rick took on after retiring from the Fire Service back in 2014 and which he has relished ever since. However, he certainly hasn't been prepared to rest on his laurels. He is responsible for health, safety and environmental matters at the airport, which has taken Rick into areas beyond his norm.
"There's a lot to consider health, safety and environmental-wise and that's how it is with everything here. Take the de-icing of an aircraft for example. It really is quite wide-ranging. Although I wasn't in the health and safety section in the brigade, we all worked very closely when doing operational training around risk assessments for example, so I knew a lot already when I came here. I'd also completed my NEBOSH National General Certificate in Occupational Health and Safety back in 2003, which I found really helpful in the latter part of my career."
However, Rick decided he needed more qualifications in his new role at the airport. "I actually started with the NEBOSH National Certificate in Fire Safety and Risk Management, which it's fair to say I didn't really struggle with. I then took the NEBOSH Certificate in Environmental Management and went on to the NEBOSH National Diploma in Occupational Health and Safety, which has been incredibly useful all round."
He added: "As part of the senior management team here I wanted to show I was willing to be the best I could be and have the right qualifications for the position I was in. It's a big responsibility here, so I guess I wanted that extra level of knowledge and through NEBOSH, be seen as someone who really knows what they're doing.
"It's what I did throughout my career in the fire service and I guess it's just continued here. My NEBOSH Diploma has allowed me to gain my GradIOSH status, which in turn has allowed me to become a member of the IOSH Aviation and Aerospace Committee. There are only six of us on that committee throughout the whole UK, so it's really helped me get into this whole specialist arena."
Next for Rick will be taking the NEBOSH National Diploma in Environmental Management. "The environment is becoming a major hot-potato again, so I'm looking forward to learning even more. I'm 54 now, so not exactly what you would call normal student age and the old hard drive is getting a bit full, but we should never stop learning should we?"
Rick has also introduced a development pathway for his team at Humberside Airport, which includes NEBOSH Certificate-level qualifications. "When I'm looking to recruit, one of the things I look for is a NEBOSH Certificate. It certainly puts people at the top of my pile."
National General Certificate in Occupational Health and Safety
National Certificate in Fire Safety and Risk Management
Certificate in Environmental Management
National Diploma in Occupational Health and Safety