NEBOSH made sense for me because of its reputation in GCC Countries
Case Study: Zubair Amin - Project HSE Lead for Arcadis
In our latest interview, we spoke to Zubair Amin, Project HSE Lead for Arcadis in the United Arab Emirates. Zubair explains what first attracted him to our profession and the highlights from his career so far.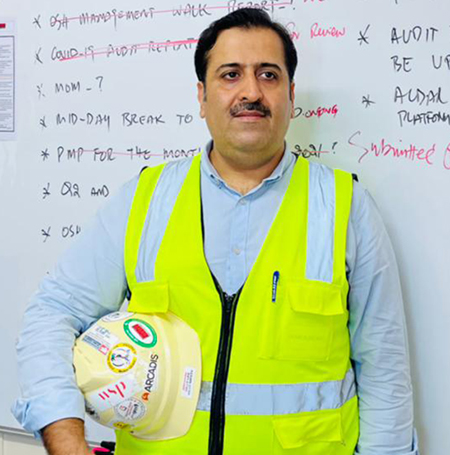 You studied civil engineering at university and secured a HSE officer role with an engineering company after your graduation. Why did you choose to focus on health and safety in particular?
As my time at university came to an end, I began to consider what I wanted to do for a living and one option that was suggested to me was health and safety. Through my research, I discovered that the profession is concerned with preventing accidents and incidents to ensure that people's time at work is safe and happy.
My mind and heart have always been focussed on helping others and I felt that I could do this every day through my work if I made health and safety my career. This was the reason for initially choosing this career path and it's a decision I have never regretted.
Health and safety are a hugely rewarding profession that has given me the opportunity to make a difference, and even save lives, every day.
In 2011 you completed the NEBOSH International General Certificate:
Why did you choose it?
When I decided to complete it, I already had 5 years practical experience and just felt I needed to pass a recognised qualification to back this up. I looked at what my peers had done, and it was clear that here in the Middle East, the NEBOSH International General Certificate is most popular. For me, it's perfect for managers, supervisors, and anybody else with health and safety management responsibilities.
How did you find it?
I really enjoyed the qualification and felt it helped me in exactly the way I expected. It confirmed everything I had learnt on the job but I gained some new knowledge too. It also provided a great opportunity to speak with and learn from other health and safety professionals.
How did the NEBOSH International General Certificate help you?
It helped me in so many ways. It gave me confidence that how I was operating was correct. It also provided me with a way to evidence the skills and knowledge I have. For me, it is a great choice for anyone who aspires to make health and safety their career, because of the knowledge and credibility you gain.
You look to have had a very rewarding career, working as a HSE Engineer on some exciting construction projects in the UAE. What achievements are you most proud of?
The thing I am most proud of is, that through my work and with the help of God, I have saved lives. I have worked in the construction industry for 15 years and in that time, there have been no fatalities on the projects I have managed.
Every day I use my strong communication skills and physical demonstrations to get health and safety messages across to the workers I am responsible for in ways they will understand. I listen to ensure I am clear about the challenges they are facing and then work to come up with solutions that will keep them safe and well. I have achieved many things that I am proud of in my career, but saving lives is the most precious one and is always my main priority.
Working on projects means things change for you regularly as when a project comes to an end you move to a new one. What challenges and opportunities result from this?
I enjoy the variety that I get from working on projects. I get real satisfaction seeing a build through to safe completion and then moving on to a fresh challenge. With every project I am involved with, I learn new things which I take to my next job. I feel that project work ensures I am continuously learning, which I love.
In terms of challenges, each time I move to a new project I must establish myself, but I have done this so many times I am very practised at it now. Making sure you are approachable and communicate well is the key.
Do you have any advice for your peers on how to manage change?
Keeping your occupational health and safety skills and knowledge up to date and being informed of current best practice will help feel confident to handle change. I have found my NEBOSH certificate has really helped in this regard. Having a strong safety culture based on good morals also helps to ensure that doing the right thing comes naturally to the team, even when it is something new.
You are currently working as a Project HSE Lead for Arcadis. Can you tell us a little about your role and responsibilities?
It is a really varied role and I am responsible for managing the implementation and administration of all aspects of HSE. In practice, this means I spend my time:
Reviewing risk assessments and advising on risk mitigation
Preparing health and safety strategies and developing internal policy
Outlining safe operational procedures, which identify and take account of all relevant hazards
Making changes to working practices to ensure they are safe and comply with legislation
Liaising with other organisations and relevant authorities as an when required
Issuing monthly reports to our clients on a range of HSE topics including trend analysis, performance reviews and statistics
Working to create and deliver in-house safety awareness training
Investigating incidents to identify immediate and underlying causes so action can be taken to prevent a recurrence.
Managing and implementing environmental, health and safety initiatives
Counselling on health and safety, environmental and other specialist areas such as fire
Given your extensive experience, what tips would you give to those at the start of their health and safety career?
I have found it is important to get a mix of practical experience and a recognised qualification. This is the approach I followed and I have found it has worked for me. Taking the NEBOSH International General Certificate was the right choice because of its great standing in GCC countries. I found that completing this qualification has really benefited my career.
I feel that health and safety practitioners must have good communication skills so it is important to work on improving these if you want to work in this profession. You must be able to listen and understand what people are saying to you. You must also be able to speak to people at their level to ensure they understand you.
I also recommend you make connections with other health and safety professionals who you can call upon for advice and support when you need to.
What do you enjoy most about working in health and safety?
Keeping workers safe is what I enjoy most. It's what first made me want to make this my career and I still get real satisfaction from helping to ensure that the projects I work on are completed safely.
What's next for you in terms of your personal development?
I feel I am ready to take my NEBOSH studies to the next level. I am currently deciding whether I should do the International Diploma for Occupational Health and Safety Management Professionals or the International Diploma in Environmental Management first. I am really motivated to start studying again.