NEBOSH helps develop new career in new home
Case Study: Bronwyn Bean - Agility Risk and Compliance
Building a brand new career from scratch in a different country can be a significant challenge, but Bronwyn Bean is making a great success of it and looks set for an exciting future.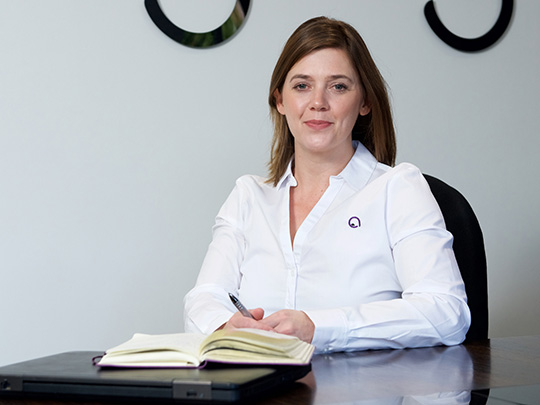 In 2012, Bronwyn's husband was offered a fantastic job in the UK. They both felt it was an opportunity too good to miss, especially for the future of their young children, so they left their home in South Africa and travelled to Britain. However, for Bronwyn, this meant having to start all over again.
According to a study by the Permits Foundation, less than a fifth of what they call 'trailing spouses' feel they receive adequate support in finding employment in their new location and as many as 65% fail to find work. Often this leads to international assignments being terminated early. For Bronwyn, it was not only important to find a job but to develop a long-term and fulfilling career in her new home.
Bronwyn had worked for ten years as a highly effective Tendering and Procurement Manager for an air conditioning company in Johannesburg, however she struggled to find an equivalent position in the UK. Eventually she settled for an administrative role with a refurbishment company, which was heavily linked to health and safety. It was then that she caught the bug.
"Health and safety is starting to catch up now in South Africa, but six years ago it wasn't really a big thing. It became apparent to me how important an issue it was here in the UK and I realised how much I enjoyed it, particularly as it meant making things better for people at work and improving their working environment."
It was a conversation with a Principal Designer on a refurbishment project that led Bronwyn to NEBOSH. She had asked him what the best route to becoming a health and safety professional was and he told her that her starting point should be a NEBOSH qualification. "Because of where I was working at the time he recommended the National Certificate in Construction Health and Safety, so that is where I started. I became fascinated by the subject. I didn't realise quite how much there was to health and safety and after passing I have since gone on to take the Fire Certificate as well, which I also found incredibly interesting."
More importantly for Bronwyn her NEBOSH qualification, together with her previous track-record and clear commitment to her personal and career development, has helped her get what she describes as 'the perfect role' to help extend her knowledge and experience. "To progress further I realise I need mentorship," said Bronwyn. "Here as a consultant at Agility Risk and Compliance I'll be working in all kinds of different environments, which is great, and I'm now very hopeful of achieving Chartered membership of IOSH. My next step will of course be the NEBOSH National Diploma in Occupational Health and Safety. I'm so enthusiastic about where all this is now leading and I'm fascinated by everything I still have to discover."
As well as making terrific progress with her career in the UK, Bronwyn has also been able to continue with her other great passion; sport. In addition to helping out as a parent at various sporting clubs, she has also volunteered to support Homeless Rugby, an organisation that works with various clubs and charities to transform the quality of life and opportunities of homeless people by using rugby as a catalyst.
"Sport is hugely important to me. Like health and safety, it makes a big difference to people's lives and I hope that one day I'll be able to bring both of these passions together. Health and safety has that flexibility - it is relevant in all fields - and so I'm really looking forward to my future."