NEBOSH helped me establish my health and safety career both on land and at sea
Case Study: Antoine Cutajar
Antoine Cutajar, is a QHSE Consultant based in Malta. In this interview, Antoine explains how his NEBOSH qualifications have helped him succeed in the health and safety industry.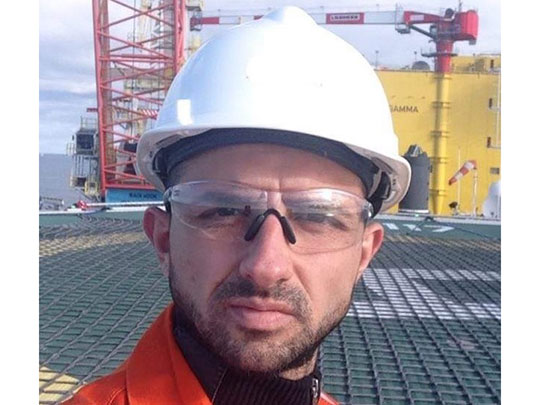 Why did you choose a career in health and safety?
My working life began 14 years ago when, at the age of 19, I started to work as a Deck Officer in the Merchant Navy. I gained experience on various vessels including container ships, supply vessels and tug boats. I was passionate about life at sea but after a couple of years decided I wanted to experience working onshore. I achieved this by securing a position as a Vessel Traffic Service Supervisor in Malta.

The path into the world of health and safety commenced soon after. Having completed a Diploma in Operations Management I secured a position with an oil spill response company based in Greece. It was an Operations Manager role which included responsibility for health and safety. At that time, my knowledge of health and safety was limited so I did not feel comfortable with this aspect of my new job. I knew I needed to take a qualification to fill the gap and after researching my options, I signed up for the NEBOSH International General Certificate in Occupational Health and Safety (IGC).
Why did you choose this NEBOSH qualification?
I believed the IGC would help me achieve both my immediate and longer-term aspirations. Not only would I be able to fulfil my health and safety obligations in the role I had just secured, but it would open exciting opportunities for me in the future. I could see health and safety was a great career option and, as NEBOSH is recognised across the world including by organisations operating offshore, gaining these qualifications would help me succeed whether on land or at sea!
Did your IGC help you in the way you expected?
Definitely! I made a success of my Operations Manager job and when I was ready for a new challenge, my IGC was critical in securing my first offshore Health and Safety Officer position. I loved it and knew I had found the career for me. This spurred me on to further study.
What NEBOSH qualification did you do next?
As my first role was working in the Oil and Gas industry, the International Oil and Gas Certificate (IOGC) was the natural next step. Once I had achieved this, I went on to complete the International Diploma in Occupational Health and Safety (IDIP) and the International Fire Certificate (IFC). I passed all my NEBOSH qualifications with distinction.
Amazing – well done! Did you find them useful and enjoyable?
I enjoyed them all and every qualification has given me that extra confidence I have needed to further pursue my career in health and safety.
How did you juggle work and studying?
I did the IGC and IDIP by distance learning and the IOGC and IFC by classroom learning. Whichever teaching option I went for, I maximised my study time by making it my main priority and planning revision around my job. For each qualification I worked back from the assessment date to formulate my study plan. I personally found it very useful to produce my own revision notes as I found this helped me absorb the information I needed to retain.

What impact has having NEBOSH qualifications had on your career?
NEBOSH qualifications have had a massive positive impact on my career and have helped me to move forward in my profession. Within the offshore industries they are what employers ask for in conjunction with relevant offshore qualifications. My NEBOSH qualifications are recognised in Malta where I am registered as a competent person under the Occupational Health and Safety Authority (OHSA).
Can you explain what your current role is and how your responsibilities have changed due to COVID-19?
My consultancy role continues to keep me very busy as I support clients by operating as a:
QHSE Consultant providing logistics services, oil spill response, maritime and HSE training to numerous companies.
Project Supervisor Design Stage - I am responsible for health, safety, and the environment at various construction sites.
Offshore Health and Safety Officer – this is ad hoc consultancy work.
Unfortunately, COVID-19 means we are living in unprecedented and uncertain times. As we cannot see the virus, we must assume that it is everywhere and should constantly abide with the control measures in force.
All tasks are constantly risk assessed to ensure that appropriate precautions are in place.
Meetings are conducted virtually where possible. Training is done remotely and this results in longer training hours due to group number limits.

When working offshore, you can be required to travel several days earlier than usual because of the testing and quarantine requirements that have had to be put in place.

COVID-19 has created new challenges but it is important that we keep in mind that other hazards and risks have not gone away. In fact, in some cases they have been heightened because of restrictions and work procedure changes that have been implemented. COVID-19 has added complexity for us all.
What do you enjoy most about your SHE career?
Creating a healthy culture within a workplace is of vital importance and health and safety professionals need to facilitate this. Every individual within a workforce is like a link on an anchor chain, if one link fails the ship starts drifting. Thus, it is vital that every employee is a team player not just a team member.

We must know the workforce well, involve them in processes, make time to listen and ensure that they own health and safety to be effective. By building this trust, you gain vital knowledge and understanding and this mutual respect helps you make a difference. For me this is the most satisfying feeling in this career.
Are there any aspects you do not enjoy?
Incidents. No one enjoys having an incident but unfortunately, they do happen for various reasons. We need to ensure our teams are not afraid to talk and discuss incidents as this helps ensure lessons are learnt.
What advice would you give someone who is considering health and safety as a career?
The first step should be gaining a qualification such as a NEBOSH General Certificate, which provides a broad understanding of many health and safety topics. Holding a well-recognised qualification like this, when combined with a passion for the subject, will make it easier to kick start a career in this exciting and rewarding area.