NEBOSH has been instrumental to most of the key milestones I have achieved in my career so far!
Case Study: Abdul Qadoos
Abdul Qadoos is a UAE based HSE Manager who works for Power Construction Corporation of China Ltd. In this interview we find out Abdul's career and the part NEBOSH qualifications have played.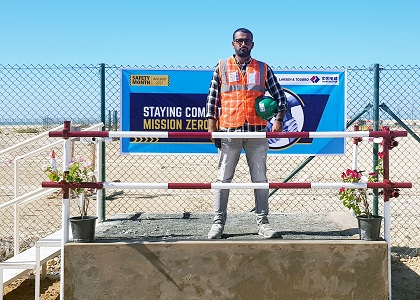 Looking at your LinkedIn profile your health and safety experience began after you completed an engineering qualification. How did this come about?
After completing my Engineering Diploma, I was searching for a job that would give me the opportunity to apply the knowledge I had gained. I was offered a health and safety role by a construction company and I accepted this position. I found the role was very rewarding and I decided I wanted to make health and safety my long-term career.
I can see that shortly after moving from Pakistan to the UAE, you completed the NEBOSH International General Certificate in Occupational Health and Safety (IGC). Why did you choose this qualification in particular?
My move to the UAE was made possible after I secured a role as an Environmental Coordinator. In this job I worked very closely with my employer's health and safety department and I discovered that to become a HSE Officer for that company, I would first need to complete my IGC. This is not unusual in the UAE as many employers specify the IGC as a mandatory requirement for health and safety roles. As I wanted to get back into health and safety, I enrolled on a IGC course and passed with Credit on my first attempt.
Did you enjoy the IGC course and how did gaining this qualification benefit you?
I really enjoyed it and found it interesting and informative; particularly because I gained an understanding of health and safety systems. My IGC success opened many job opportunities for me and I decided to take a HSE Engineer role I was offered by a contracting and general maintenance company.
After your IGC success, you enrolled on the NEBOSH International Diploma in Occupational Health and Safety (IDIP). Did you enjoy this course?
My IDIP studies supported my continued growth and development. When I was studying for my IDIP I was also working full-time, which added to the challenge. I really enjoyed this course though and it gave me a deeper understanding of health and safety and the methods and techniques which can drive improvements in the workplace.
I can see you secured your first managerial health and safety role during your Diploma course. Did your NEBOSH studies help you secure this position?
Without doubt. My employer, Power Construction Corporation of China, specifies NEBOSH's IDIP as one of its requirements to work in any managerial health and safety role. So, without my IDIP I would not have got this job; it is as simple as that. This was not the only benefit I gained from my IDIP success. It also helped me to upgrade my IOSH membership first to Grad IOSH and, after one year, I achieved Chartered status too. My IDIP and IOSH status were key to securing my place on a UK university MSc programme. NEBOSH has been instrumental to most of the key milestones I have achieved in my career so far and I am sure it will continue to have this effect in the future!
You now work as a SHE Manager for Power Construction Corporation of China on the Etihad Railway Project. Can you tell us a little about your responsibilities and how your NEBOSH qualifications help you in this role?
I am currently appointed as a Site HSE Manager for one of the most prestigious projects taking place in the UAE now, the Etihad Railway project. I am responsible for developing and implementing all site health and safety plans and procedures. I provide leadership on all health and safety issues as per legal and client requirements.
You have held health and safety roles in several industries. How easy do you find it switching from one to the other?
My career has mainly consisted of project work, which I enjoy because it gives me variety, but it also means that when a project comes to an end so does my employment! When you work in project management, being able to show that you have relevant experience and have achieved recognised qualifications really helps you to stay in employment. This was a key driver for choosing NEBOSH qualifications as I know they have a great reputation with employers and recruiters in the UAE.
What do you enjoy most about working in health and safety and is there anything you do not like?
It gives you the opportunity to work with other departments, so you gain an understanding and appreciation of the whole operation regardless of whether it is civil, mechanical, or electrical. I like this variety and the opportunity to work with people from all specialisms as I find this helps me improve my skills and knowledge every day.
The biggest challenge is the attitudes that some people and companies still have towards health and safety. A safe and healthy workplace not only protect workers from injuries and illness, but it also improves a company's production and quality, and raises worker morale. Unfortunately, many people and companies still fail to understand this.
What would be your advice to anyone at the start of their health and safety career?
My advice would be to build your knowledge and confidence through a combination of experience and qualifications. In my opinion, having these two things will help you succeed.
You choose to mentor those at the start of their careers. Do you enjoy doing this?
Yes, I love mentoring those who are just embarking on their health and safety career. When I was starting out, many of my seniors shared knowledge and experience with me. It is great to have the opportunity to now repay this by supporting the next generation of health and safety professionals.