NEBOSH: A 'vital' investment in knowledge for small businesses
Case Study: Chad Bott - Transcentral
Renowned statesman, author and inventor Benjamin Franklin once said: "An investment in knowledge pays the best dividends" and his words ring true for organisations as well as individuals.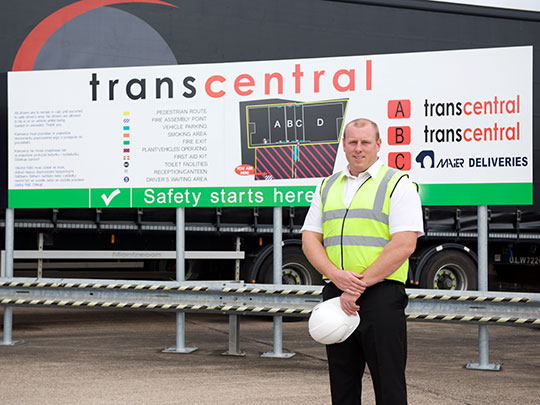 Not so long ago, Staffordshire based Transcentral was focused exclusively on providing same day delivery services. The team's experience and dedication meant they had a loyal customer base, which included a number of well-known brands. To support the company's continued growth, the decision was taken to start offering warehousing and storage services. This expansion required significant investment; not only to get the right premises but also to develop in-house expertise, including health and safety.
When the expansion plans for Transcentral were first outlined, it's now Health and Safety Manager, Chad Bott was not an official employee. He worked in the construction industry but helped out with his family's business whenever he could. Everyone knew Chad was passionate about health and safety so it made perfect sense to take this opportunity to divert Chad's career path and for him to become a key player in Transcentral.
"I asked health and safety professionals I knew how I could develop my skills and knowledge and found that the best option was to take a NEBOSH qualification."
Within 12 months Chad had passed four NEBOSH Certificates covering general health and safety, construction, fire and the environment. He used the knowledge gained from his studies to develop a complete health, safety and environmental management system for the business.
"Risk assessments, method statements, environmental policies, traffic management walkways. You name it, we've devised and implemented them and it's all been vital," said Chad.
As well as investing in the development of its team, Transcentral ploughed money into a new state of the art 45,000 square foot warehouse.
"The transformation of the business has been immense and it simply wouldn't have been possible without my NEBOSH studies and qualifications. We now boast a five star health and safety rating from a international soft drinks manufacturer. Without NEBOSH I doubt we would have won that tender. We have benefitted financially and culturally from the changes. Everyone feels valued and our team has become stronger than ever."
Taking his NEBOSH Certificates has also had a positive impact on a more personal level. Chad says he feels he now has a clear sense of direction and is fully dedicated to the health and safety profession. He's decided to take his studies to the next level by enrolling on a NEBOSH National Diploma course. "For me, it's been great. I just generally feel more confident and now have a job I love, which allows me to make a difference."
He strongly recommends NEBOSH qualifications to others working in small businesses. "When I think about small companies, as outlined in the Sentencing Guidelines, it really does concern me that too many of their owners and directors simply do not know enough about what they need to be doing. The knowledge I gained from taking my NEBOSH qualifications has been essential for Transcentral. For me, from a health and safety point of view, investing in a NEBOSH qualification is essential for any small business."
How has your NEBOSH qualification helped you? Email us with your story: marketing@nebosh.org.uk
National General Certificate in Occupational Health and Safety
National Certificate in Fire Safety and Risk Management
National Certificate in Construction Health and Safety
Certificate in Environmental Management