'NEBOSH: A qualification for any kind of workplace!'
Case Study: Cath Shaw - Leeds Royal Armouries
Imagine if your health and safety responsibilities involved jousting events, wild west shootouts, sword fights, one of Britain's most iconic historic buildings and a massive collection of cannons! Where would you find a qualification that could help you with all of that?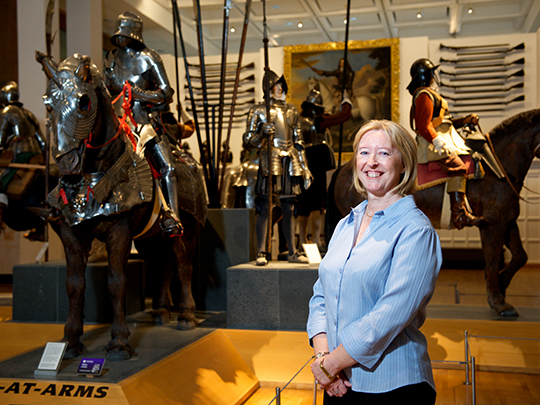 For Cath Shaw, Health and Safety Coordinator at the Royal Armouries, that really is not even the half of it. The Royal Armouries is the UK's national museum of arms and armour. It can trace its origins back to the 16th century during the reign of Queen Elizabeth I, when a display was created for visitors. It now has a collection of around 75,000 items that are housed and displayed at the White Tower in the Tower of London, its purpose built museum in Leeds, and at Fort Nelson near Portsmouth.
Cath is based at Leeds, but also travels regularly to the other locations to ensure everything is operating safely. It's quite a task, but it's one she "absolutely loves". She told us: "I've worked here for seventeen years, and I can say that health and safety here is never ever boring."
Cath started out as PA to the Building Services Manager back in 2000, "After a year and half I decided that role wasn't for me and was actually about to leave. Luckily for me, the Head of Operations, who looked after health and safety at the time, asked me to take on some of his responsibilities as he was a bit stretched and I found I loved the tasks I was helping with."
For someone like Cath, not having any kind of health and safety or industrial background meant that a lot of the processes and activities she was involved in were completely alien to her.
"I realised I needed a qualification that would help me with all of those things, so I took my NEBOSH National General Certificate in Occupational Health and Safety. The knowledge I gained was invaluable so I decided to continue my studies and completed the NEBOSH National Diploma in Occupational Safety and Health (Part 1) in 2005. I took a break from my NEBOSH studies when I started my family but always wanted to finish what I had started! So in 2014 I was delighted to pass my NEBOSH National Diploma in Occupational Health and Safety."
"We basically do everything that is covered by the full spectrum of the Diploma, so it has been totally invaluable in my role here. And of course, the framework it gives you for handling anything that is a bit out of the ordinary, such as moving the cannons for example, has helped massively too."
"To the visitor, a museum may not seem to be the kind of place that would have a lot of complicated risks, but we have all kinds of weird and wonderful things going on here. As well as the special events, such as jousting and horseback shootouts, we have plant rooms, high-voltage switch gear, woodworking, metalworking, X-Ray equipment, a conservation department and all the chemicals that go with that. Even some of our artefacts have asbestos in them!"
"As a tourist attraction, encouraging visitor numbers is key. If the team want to run an assault course as an attraction they can't have me saying you can't do that', we just have to find a way to manage it safely."
Cath's approach, and the knowledge and understanding she has gained from her Diploma has also been passed on through the organisation, so that now health and safety is simply seen as important part of what everyone does. "In the early days when I was here, if anyone had asked the question, who is responsible for health and safety, everyone would have said the health and safety officer. Now everyone knows that the correct answer is 'everyone'."
Cath concluded by saying: "For me the NEBOSH Certificate and Diploma have been superb. My studies have given me the confidence to know I can deal with any kind of situation. I may have never worked in manufacturing, textiles, warehousing or a COMAH site, but I know with what I have learned from my qualifications and the things I have had to manage here, I definitely could."
How has your NEBOSH qualification helped you? Email us with your story: marketing@nebosh.org.uk.