My NEBOSH qualifications helped me secure my dream job!
Case Study: Rob Beggs
NEBOSH Diploma Holder Rob Beggs was appointed Health and Safety Supervisor at the Walt Disney Studios in September 2020. In this interview, Rob explains the part NEBOSH qualifications played in securing this dream job!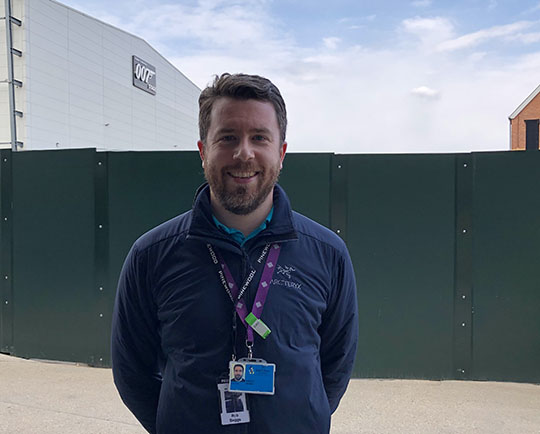 Look at your LinkedIn profile, I am a jealous of the places you have worked! Are you enjoying your career and what have been the highlights for you so far?
I am enjoying my career and have had some amazing highlights already. I have worked in Florida for 6 months, contributed to the planning for a hotel build, worked on Halloween scare mazes and most recently worked on the set of a TV show based on one of my favourite film series.
I can see while you were completing a post graduate certificate in Hospitality Management, you got to work as a cast member at Walt Disney World. This would be a dream for many, so how did you land this opportunity?
After I completed my degree, I was unsure what I wanted to do. Whilst I tried to work that out, I decided to follow a friend who had applied for a role on the Disney College Program. It gives international students the chance to study at the University of Central Florida, while also working full time within the resort. I applied through a recruitment agency and was lucky enough to be offered a position within the rides department at Disney's Animal Kingdom.
Amazing. On your return to the UK, you worked in various operational roles within the leisure industry and completed your NEBOSH National General Certificate during this time. Why did you take this qualification in particular?
I was working as the Hotel Leisure Club Manager at the Chessington World of Adventures Resort hotel. The part of this role I found most rewarding was the safety side of managing the swimming pool and gym. I really enjoyed driving safety standards up and decided I wanted to make this my career.
I sought advice from the resort's Health and Safety Director, who recommended the NEBOSH General Certificate to me. He explained that this qualification would help me in two ways. First, the content was relevant for my current department head role and second it was a prerequisite for securing a Health and Safety Advisor role within the company. I took the qualification in 2017 and the experience confirmed that occupational health and safety was what I wanted to do.
You secured your first Health and Safety Advisor position at a UK theme park in 2018. Did your NEBOSH General Certificate help you secure this position?
Yes absolutely. I had to have my NEBOSH General Certificate before I would be considered for this role, because it was a recruitment requirement for the company.
Completing the NEBOSH General Certificate also gave me the confidence to step into this role. It gave me a grounding in how health and safety should be managed and why, as well as practical knowledge on controlling risks.
What are the main health and safety areas you had to focus on in the theme park?
This was a very broad role. A resort is like a mini city, with its own warehouses, workshops, shops, restaurants, offices, and hotel which meant no two days were ever the same. I offered support and advice across all areas of the business, from retail and food services, engineering, security and even landscaping. There was obviously a high level of focus on the rigorous safety controls in place to manage ride operations and engineering.
Training was a big part of this role too. Each season my colleague and I would carry out health and safety inductions for approximately 1000 seasonal employees. This was in addition to specific training I would deliver across a range of topics including risk assessment, fire marshal, incident investigation and contractor control for permanent and seasonal staff.
We also reviewed every incident, from minor slips and trips to more serious first aid incidents or near misses to look for learning points for the team to prevent a recurrence.
Sounds like it was a very busy role. You went onto complete the NEBOSH Fire Certificate in 2019. Why did you take this specialist qualification and what did you gain?
My manager suggested I complete this qualification because it would allow me to take on additional responsibilities, which would have a positive impact on the resort. I was delighted, because I had wanted to take it ever since I had completed my General Certificate.
I really enjoyed the course and after completing it, I took on responsibility for managing fire safety on the resort. I reviewed and re-designed some of our fire safety training which was rolled out to all employees. I also introduced processes to improve compliance with the Regulatory Reform (Fire Safety) Order 2005 across the resort. It provided me with the knowledge I needed to prepare for an advanced course on fire risk assessing, which then became another of my responsibilities. Without completing my NEBOSH Fire Certificate first, I would have found this extremely challenging.
Your next step was to take the NEBOSH National Diploma. Did you enjoy this course and how has it helped you?
I knew I wanted to keep progressing as a health and safety practitioner so completing my NEBOSH Diploma was an obvious decision to me. I had learned so much from the two Certificates I had completed previously and was ready to expand my knowledge even further. My manager, who had completed the Diploma previously, told me how rewarding it would be and how much I would learn.
The course did not disappoint. With each week of tuition and every hour of private study, I felt my confidence as a health and safety practitioner grow because I was gaining the technical knowledge to provide professional, practical advice to my employer.
This qualification will undoubtedly continue to support my career. The practical knowledge of different hazards and the ways of controlling them can be applied to any industry. Having this more in-depth knowledge of occupational health and safety will help me take on more senior roles in the future and that is why I recommend it to anyone serious about making this their career.
In September 2020 you were appointed Health and Safety Supervisor at the famous Walt Disney Studios in Pinewood, UK! Do you think your NEBOSH qualifications helped you get this job?
Definitely, as my employer was looking for someone with a good health and safety background to take on this new role. The NEBOSH qualifications I have completed helped me to demonstrate that I had the technical knowledge needed and gave me the confidence to move into a new industry.
Can you tell us a little about this role?
The role is part of a new global team set up to help the company continue to produce live action film and TV during the pandemic. My primary responsibility is as the COVID safety supervisor on set; helping to train and enforce the stringent protocols we have put in place for the safety of the cast and crew. We have a huge team spread around the world working very hard behind the scenes to ensure production can continue safely and I am very proud to be a part of this.
What do you enjoy most about being part of the health and safety profession?
What I enjoy most is the positive impact I can have on the safety and wellbeing of my colleagues or anyone else who could be impacted by my business. In my role I provide a service which helps keep people safe in my workplace and this gives me a great sense of job satisfaction. I really love the human side of safety, supporting different teams to work out how they can complete their jobs in a safe manner. I love building relationships with people and teams and seeing the safety culture strengthen and improve over time.
Do you think health and safety is a good choice of career?
I would say health and safety can be a worthwhile and rewarding career. No two days are ever the same, there's great job satisfaction and as literally every industry requires health and safety advice, the opportunities are endless. My experience shows that you can follow your passions and work in whichever industry you find interesting or exciting.