My health and safety career proves if you do what you love, you'll never work another day in your life!
Case Study: Andrew Maxwell - Safety Forward Ltd
We recently spoke with Andrew Maxwell, a junior health and safety consultant with Safety Forward Ltd. Andrew decided to change his career during lockdown and in this interview, he explained how he made this aspiration a reality.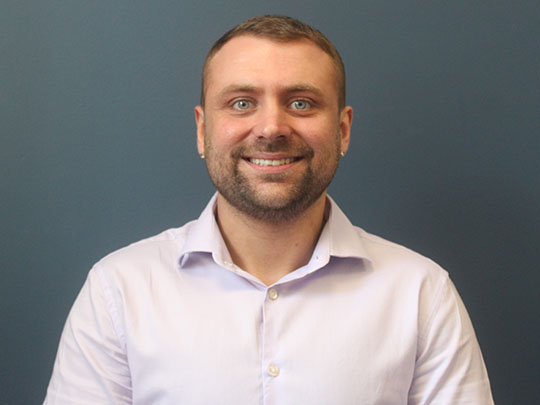 When and why did you become interested in making health and safety your career?
Throughout my working life, I have been interested in health and safety. I discovered it was something I really enjoyed shortly after leaving full time education, and since then, I have always actively sought opportunities to contribute to health and safety in every place I have worked.
I had hoped I might be able to progress into a health and safety support role with my former company, but unfortunately these plans had to be put on hold due to the onset and impact of COVID-19.
Like many others, I decided during lockdown to invest in my personal development. I knew that I wanted to make health and safety my career so I needed to formulate a plan to make this a reality.
So, what did you decide to do?
I thought it would be tough for me to break into the profession because I was older and had never held a health and safety specific role. Despite these doubts I was determined to give it a go and focussed on the positives. I had lots of valuable hands-on work experience in different manufacturing and warehousing environments and I had a real passion for health and safety.
My first priority was to achieve academic qualifications that would complement the work experience I had already gained. I started by taking a level 3 equivalent qualification before self-funding the NEBOSH National General Certificate in Occupational Safety and Health. My plan was to try and secure a junior health and safety role once I had achieved this recognised qualification. I hoped that my maturity, enthusiasm, and pro-active approach to gaining both qualifications and experience would mean someone would give me a chance.
I can see you completed your NEBOSH General Certificate in 2021.
Yes I did, but I will be honest and say it wasn't easy for me due to my circumstances. I had been away from education for some time, was working shifts, and was required to work significant overtime on top. This made studying a challenge, but I didn't give up and have no regrets.
Why did you choose to take this qualification in particular?
The NEBOSH General Certificate is a fine course, which provides broad coverage of all the health and safety essentials. For me, this makes it the perfect choice for any budding health and safety professional.
Did you enjoy your studies?
Yes I did. It was a demanding course but so worthwhile because of the knowledge and insight I gained.
How did you find the assessment?
I found the open book examination a bit of a challenge. I think I would have benefited from more pre-exam practice but, as I was one of the first to take this assessment, the resources available were limited. My work commitments also impacted my preparations and performance, but I persevered and was successful.
How has the qualification helped you?
The qualification had the impact I hoped it would have. It showed I had a good breadth of health and safety knowledge and this helped me secure my first pure health and safety role.
Can you tell us a little about your present role?
I'm currently a junior health and safety consultant at a company called Safety Forward Ltd. The owner Marisa Firkins and our team have taken me under their wing and are providing me with the knowledge, experience and training opportunities I need to grow into my role. Since joining the organisation I have completed a 5 day fire risk assessment training course, which I really enjoyed and found had real relevance to the work I am now doing. I really love my role and it is exactly the opportunity I was hoping for when I decided to try and make my career aspirations a reality.
What's next for you in terms of your personal development?
I would like to try to go for Tech IOSH next as part of my ongoing development towards Chartered Membership. I will continue my studies in time, but at the minute I am undecided what qualification I will do next. For now, my priority is to focus on my new role. I am so fortunate to be part of such a great team who are happy to share their knowledge and experience with me. I am working hard and it is really paying dividends for me. I know how lucky I am to be in a job I love.
What do you enjoy most about working in health and safety?
I love the wide ranging opportunities working in health and safety gives you to interact with others. This is a great career if you are a people person and want to make a difference to their welfare and wellbeing whilst they are at work.
I love getting to know my clients and seeing their way of thinking. It is so rewarding to have the opportunity to share my knowledge and positively influence safety behaviours in the workplace.
Being a health and safety professional also means you never stop learning and I love that too.
What would your advice be for anyone who wants to make health and safety their career?
It is never too late to make health and safety your career and you will find all of your previous experiences and learning are not wasted as they will help you in this role. My warehousing and manufacturing experience gives me real world insight which I utilise regularly. I also find it helps workers relate to me because they know I have been where they are and so my advice reflects their reality.
It is possible to reinvent yourself and do something you enjoy like I have. I have found the old adage do something you love and you'll never work another day in your life to be true for me. So if you have a passion for health and safety, go for it!