Move to UAE leads to exciting career change
Case Study: Kavitha Pillai - Abu Dhabi Media Zone Authority twofour54
Following the discovery of oil in the United Arab Emirates (UAE), vast numbers of people from India have travelled there to live and work. The migration to UAE from the southern state of Kerala has been particulary significant, with around 40% of the estimated 2.2 million Indians living there coming from that region.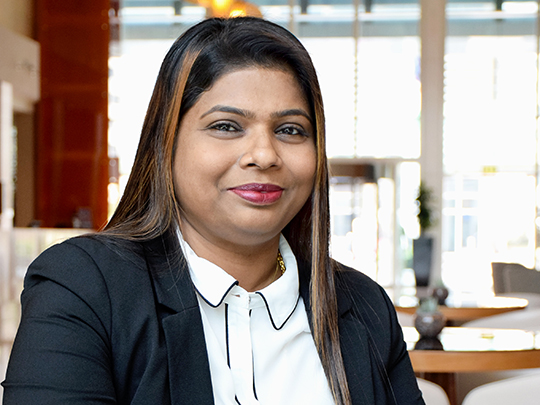 Kavitha Pillai is one of them. She lives in Abu Dhabi, having moved there with her husband and two young daughters back in 2004. The main reason behind the move was her husband's employment, but with Kavitha's strong academic and vocational background she was also able to develop a new and exciting career in Environment, Health and Safety (EHS).
In India, Kavitha had completed her first post-graduate degree (MSc) in Aquatic Biology and Fisheries in 1994, gaining a "first rank with distinction" from the University of Kerala. She then took a Master of Philosophy (MPhil) in the same subject, achieving grade A. Her working career began in 1997 as an Aquaculture Expert at the Kerala Government's Department of Fisheries. Whilst working there she gained an MBA from Indira Gandhi National Open University (IGNOU) and later, in 2003, one year before her move to the UAE, Kavitha worked as a Vocational Lecturer in a Fisheries School. Her plan had been to complete a PhD and then teach, however all of that changed when she moved to Abu Dhabi.
Kavitha's interest in health and safety began when she worked for an auditing business after the move. She took courses to learn more about various ISO standards and OHSAS 18001, which led to a new career as an EHS Officer within a hotel group. After just three months, she was promoted to the position of EHS Manager having committed to achieving what she called the "must have qualification for the role" the NEBOSH International General Certificate in Occupational Health and Safety. She achieved a distinction, which Kavitha said "was really a turning point in my level of confidence and the way I felt about the role."
In April 2013, she took on the position of EHS Manager for two prestigious Rotana Hotel Management Corporation properties - Yas Island Rotana and Centro Yas Island. Legal requirements surrounding health, safety and the environment in the UAE were broadening at this time. In Abu Dhabi for example, individuals wishing to work in occupational safety and health had to have their competency evaluated so that they could be registered with the Abu Dhabi Occupational Safety and Health Registration Program (Qudorat).
"I really felt the need to have a more advanced NEBOSH qualification. The NEBOSH International Diploma in Occupational Health and Safety is broadly equivalent to a degree and for me, the perfect one to achieve for those who are coming from a different field, such as from a science background for example."
"Not many have the Diploma in the hospitality industry and so the year and a half of study it took to complete the four modules of the Diploma has really paid off. In depth theoretical and practical knowledge of HSE topics for example, regarding qualitative and quantitative risk assessments, has enabled me to bring in desirable and positive changes. As well as improving my professional quality, the Diploma has also helped my employers as I'm better equipped to retrieve and disseminate information and technical knowledge, when my colleagues require them. I feel proud and different from the crowd!"
Guy Hutchinson, Chief Operating Officer at Rotana Hotel Management Corporation, confirms the importance of having well qualified environment, health and safety professionals on board. He told us: "NEBOSH-qualified members of staff can play a vital role in helping us bring in positive environmental, health and safety changes to the workplace and instil a culture of safety at all levels of the organisation."
"Furthermore, their specialist knowledge and expertise can help us achieve regulatory compliance and protect our brand integrity, allowing us to stay safe and avoid the risk of prosecution and litigation, which can seriously damage a business' reputation."
How has your NEBOSH qualification helped you? Email us with your story: marketing@nebosh.org.uk.
International General Certificate in Occupational Health and Safety
International Diploma in Occupational Health and Safety